Jeremy Clarkson returned to the BBC for the first time since his Top Gear sacking this morning (21 May) on The Chris Evans Breakfast Show on Radio 2.
Evans announced earlier this week that the pair "will be talking about what's going on with [Clarkson] now, and Richard Hammond and James May as well – and what perhaps could be going on in the future". But perhaps inevitably the conversation ended up harking back to Clarkson's time on Top Gear.
The segment started off with Evans joking with Clarkson about how, when he first started at Top Gear, he used to speak with a different accent. Clarkson said that back in the late 1980s he had a strong Yorkshire accent but when he found out he had got a job at the BBC, he "thought it was probably a good idea to talk like this", laughing and putting on a posh voice.
The radio presenter broadcast some old audio of Clarkson saying what he would have done years ago if his time on Top Gear was cut short unexpectedly. In the clip, he casually suggested that he "would just do something else" and perhaps go on to become a milkman or write for a newspaper.
On hearing the quotes, Clarkson scoffed: "I'm not going to be a milkman, that's for sure. Not with those early starts, but I am a newspaper columnist. That was all hypothetical but now it's all sort of real. It was my own silly fault. I can't complain."
Referring to his departure from the network, Clarkson stated: "It was very sudden. It was very sad. There are some dreadful people at the BBC but some incredibly talented people. I thank them."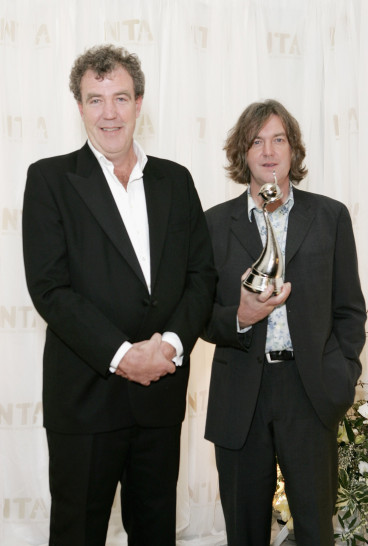 He suggested that finding his next venture will be difficult in light of the strong connection he had to Top Gear and the part he played in its creation.
"I was [there] for 27 years, it was very much my baby," he told Evans. "I worked on it all through the night and paid attention to it. You do feel there is a big hole which needs to be filled. You'd be a fool to jump into it [something new]."
When asked about his future plans, Clarkson told Evans that he has "absolutely no idea" but confirms that he, Hammond and May are setting off to do a world tour imminently.
"I'm going to spend the next six months with James and Richard on an aeroplane, with James it will be smelly. It will be good fun driving with these two. We have got six months, driving around doing live shows. We are starting this afternoon.
"It is badly organised, in three weeks we are off to Sheffield, then Johannesburg, back to England, Sydney, then South Africa, Australia, then London... someone needs an atlas."
Clarkson was axed from the network, and consequently the show he co-hosted since 1988, in March after a verbal fracas with producer Oisin Tymon turned physical.
Shortly after it was announced that Clarkson would not return to the show, fellow Top Gear hosts Hammond and May revealed that they were leaving the BBC to join Clarkson on any future pursuits he intends to embark on.
When asked about the three remaining unseen episodes of Top Gear in the series, Clarkson admits that while they're "not the strongest", fans of the show should get to see them at some point.
"They are being edited, but it will be someone else, the cleaner, maybe James and Richard [presenting them]. We had to buy cheap 4x4s, costing hundreds of pounds, another was classic cars to go on a classic car weekend, those films will be edited.
"They belong to licence fee payers so you should be shown them. For those who do like Top Gear there will be one last hoorah."
Clarkson also hinted that fans will get to see him on the track once more as he is "going to do one last lap of the Top Gear track" and that "it will be very emotional".