Broadcasting watchdog Ofcom is investigating a complaint made by members of the traveller community about an episode of Top Gear in 2014 when Jeremy Clarkson used the word "Pikey".
In the broadcast, on 2 February 2014, Clarkson erected a placard on which were scrawled the words "Pikey's Peak" in large lettering as part of a segment in which 1980s hatchbacks raced round a track.
The Traveller Movement first complained to the BBC, saying they were "horrified" by the use of the word, but the BBC rejected the complaint.
Although acknowledging that "Pikey" is a shortened version of "Turnpike" and thus related to travellers, the term had now evolved to mean something "chavvy" or "cheap."
The Traveller Movement said that response was "breathtaking in its mendacity" and meant "gypsy and traveller children are now open to even more abuse in the playground".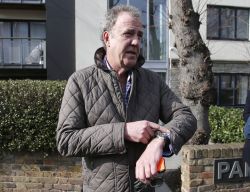 "We can bang on about semantics and meanings, but at the end of the day too many gypsies and travellers hear that word in the form of racist abuse. How can you work for understanding and integration when racist abuse is seen as funny by a national public broadcaster paid for by the public?"
However, the BBC says no racism was meant and the term Pikey's Peak was a reference to an American race track called Pike's Peak which had been referenced earlier.
Clarkson was sacked from the show in March after punching assistant producer Oisin Tymon. He had been involved in a number of controversies as presenter, having to apologise for making a racist reference, provoking a diplomatic crisis with Argentina and making jokes about lorry drivers murdering prostitutes.
Top Gear is now looking for a completely new presenting team after co-hosts James May and Richard Hammond said they would not make any more shows without Clarkson.