Jessica Minh Anh can count another one of her ambitious dreams fulfilled with the model successfully hosting a fashion show on La Seine in Paris. Dubbed the "floating catwalk', the J Autumn Fashion Show 2015 displayed new collections from six up-and-coming designers as the boat cruised around the French capital and the IBTimes UK were front row to witness the unique experience.
Leading the fleet of models on the runway, the catwalk producer strutted down the 100-metre runway adorned in a mix of elegant and funky creations from the designers who had flown in from all around the world to take part in the event. They chosen six were: Gulner Gunes from Turkey, Ani Alvarez Calderon from Peru, Ot Kutyr Atulier from Saudi Arabia, Rouba.G from Lebanon, 5.8.0 from Hong Kong and Iwi Creations from New Zealand.
Taking place on the Le Jean Bruel at Bateaux Mouches, guests were instantly treated to the beautiful sight of the Eiffel Tower in the backdrop before cruising under the 37 bridges of the Seine and taking in the city's prestigious monuments, including the Louvre and Notre Dame cathedral. With the models sauntering past, it was the perfect blend of fashion and culture and Anh pulled it off seamlessly.
Watch footage from the J Autumn Fashion Show 2015 on La Seine:
Speaking to the IBTimes UK after the floating catwalk show came to an end, the renowned catwalk producer said: "It was a lot of fun – I've done lots of shows in different countries but to be honest, this show was more enjoyable and less challenging than the other shows. Paris, I'm familiar with it as I live here, I love the city. When you walk around Paris you just find yourself happy so the fact that we managed to showcase all the beautiful scenery in a pleasant way just made the fashion look more beautiful."
Incredibly, the entire production took Anh just two months to collate but after speaking with her for a few minutes it is not hard to see how it happened. Aside from her natural modelling ability and knack for pulling off extraordinary trends, Anh's fierce determination is admirable. The model said: "It took only two months for me to organise this, but we just worked three or four times harder than we usually do.
"I have never been stressed out when I'm in control and I know what's happening. We're very well prepared, we always have plans. I believe every problem has a solution, so if something comes up, we can solve it. If a difficulty comes up, it just gives me the opportunity to show that I can overcome it."
Heaping praise on the diverse selection of designers she chose, Anh added: "I find it very important to have different styles, so that there's something for everyone and ready-to-wear has always been my interest. I love to combine extravagance with the real world and different colours and shapes excite me and I'm sure other people.
"I love all the collections – I love that Ani [Alvarez Calderon] and Gulner Gunes' designs are elegant and sexy but I also like 5.8.0. because it's very funky, youthful and cute. I can see myself wearing them."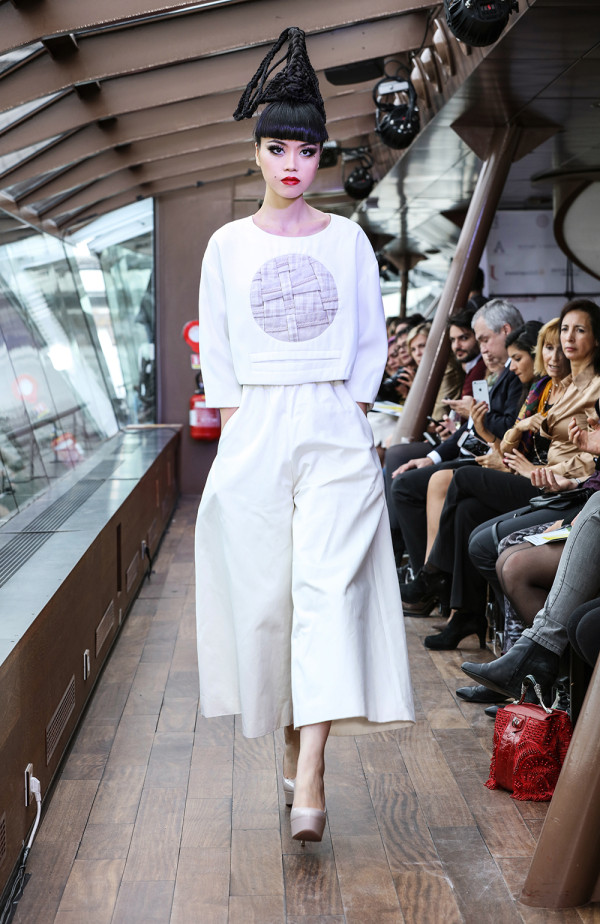 Along with the Seine, Anh has hosted unique catwalk shows on the Eiffel Tower, Tower Bridge in London and the Grand Canyon in Arizona. When asked if space could be a possibility one day, Anh laughed: "Space is an option. I always want to do things that will surprise people and stand out. If you want to do something, you may as well be the best and currently nobody is doing what I'm doing."
Through strong warrior-style designs and floating gowns, there was clearly a strong emphasis on the empowered woman at J Autumn Fashion Show 2015. Meet the designers who took part in the event and find out what they have to say about their collections and the feminist theme...
Ani Alvarez Calderon
"For this collection I did use this gold-plated metal which was inspired by armour that I saw on the Waka [Peru tribe]. They were warriors, conquerors and fighters – for me it's more like interpreting my culture and passion.
"Jessica wore four of my designs, I love the way she walks like she doesn't care about the world. She's great. I love that she does whatever she wants because I do the same. I think she has an incredible team, very professional. [The show] was better than what I imagined, it is what she sold it as."
Rouba.G
"The collection is titled Beautiful Savages and it was inspired by warriors. It's a combination between being feminine and independent but a free woman – I think it resembles me. I wanted to show women what they can wear and feel comfortable and happy about themselves.
"I think it's what attracts women because in the Middle East, for example, they're not that free. When I designed my collection, I didn't want to do something really classic – I want it to sell and be part of the market but at the same time show women a different side of fashion."
Gulner Gunes
I was inspired by power-dressing – woman wearing a man's closet but made feminine. I'm so emotional because it's the first time for me to watch my show, I've cried already."
Ot Kutyr Atulier
"The concept of this brand is 'the journey' and each collection is a symbol of something that happened on this journey. My inspiration for this collection was to reflect the feeling of sensitivity in a very soft way and I tried to add the strongness in the cuts and shapes. We want to create something new and for women to feel good about themselves. Nowadays, women are working and doing things on their own, so I wanted to reflect that."
Iwi Creations
"We decided to keep the collection simple, so that it wouldn't date. But I think it was all about those Harakeke images that we really wanted to show."
5.8.0
"My collections are pretty much about circle and square. They are so basic but at the same time so unique."