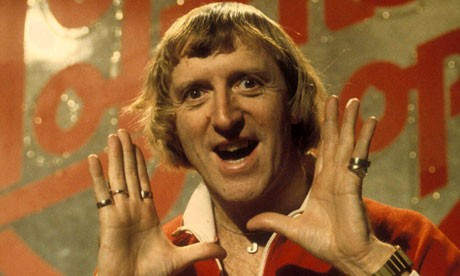 Another celebrity may be linked to a widening child sex abuse scandal that has erupted over claims about the behaviour of BBC star Jimmy Savile.
A woman said she was targeted by an as yet unnamed "media personality" when she was a young girl. She chose to come forward after watching the ITV documentary which accused Savile of molesting girls at the height of his fame, said the London Evening Standard.
The mystery person, the fourth star who has been implicated in sexual abuse allegations following the broadcast of the ITV programme, is still alive and has not been named in any part of the investigations.
The latest claims follow accusations that former glam rock singer Gary Glitter and comedian Freddie Starr had molested girls in Savile's dressing room at the BBC.
Starr, 69, has strenuously denied the accusations. He told reporters outside his home: "Don't tar me with the same brush as a scumbag and a paedophile."
Starr had claimed that he had never been to the BBC but a video clip unearthed by Channel 4 News showed he had appeared on Savile's BBC show Clunk Click on the same day as his alleged victim.
The woman making the latest claim was reportedly told by the ITV documentary filmmakers to contact police after she told them her story.
A source who worked on the ITV investigation told the Standard: "We have had a name given to us which is so far not in the public domain. It relates to a celebrity, a media personality, who is alive. We are urging everyone who contacts us to go straight to the police."
The latest allegations add to the burgeoning claims against Savile who is alleged to have molested girls at various hospitals, including one who had brain damage following an operation.
One hospital, Stoke Mandeville in Buckinghamshire where Savile volunteered as a porter, said it was "shocked" at the allegations.
Five police forces have received complaints from women who claim that Savile molested them when they were young.
The Metropiltan Police said they have formally recorded eight allegations against Savile - two of rape and six of indecent assault - but believe there could be another 20-25 victims.
Savile's headstone has been removed from a cemetery in Scarborough on instructions from his family out of "respect for public opinion".
Since the allegations have come out, a number of books featuring Savile have resurfaced.
A signed copy of one - Jimmy Savile Introduces Benjamin Rabbit and The Stranger Danger - has been made available on eBay with a starting bid of £14.99.