Singer John Legend has shared his disappointment after his long-time friend Kanye West had a personal meeting with Donald Trump.
The rapper caused a sensation after he revealed he met with the president-elect on Tuesday (13 December) to discuss 'life' and 'multicultural issues'.
Commenting on the controversial meeting in an interview with Clique.tv, Legend dismissed the meeting of egos as "a publicity stunt".
"I don't think it's impossible to talk to [Donald Trump] about issues, but I won't be used as a publicity stunt. I think Kanye was a publicity stunt," he explained.
The All Of Me singer criticised West adding: "'I'm pretty disappointed with Kanye that he says he would have voted for Trump."
Describing Trump as "corrosive" to the US, Legend added: "I think the things he's promised to do have been very concerning for a lot of people, and for Kanye to support that message is very disappointing."
The Yeezus star was recently admitted to a psychiatric unit in Los Angeles after suffering a much-publicised breakdown. At the time, Legend expressed his support for his friend, saying: "We're just rooting for Kanye to feel better and get better. You know, we're all fans of him, and friends with him, and we want him to be well and be able to do what he loves to do."
However, according to Mail Online, following his meeting with Trump, the 37-year-old seemed to hint at his ongoing concern for the rapper's erratic state of mind, adding: "Whatever's in his mind, I disagree with him."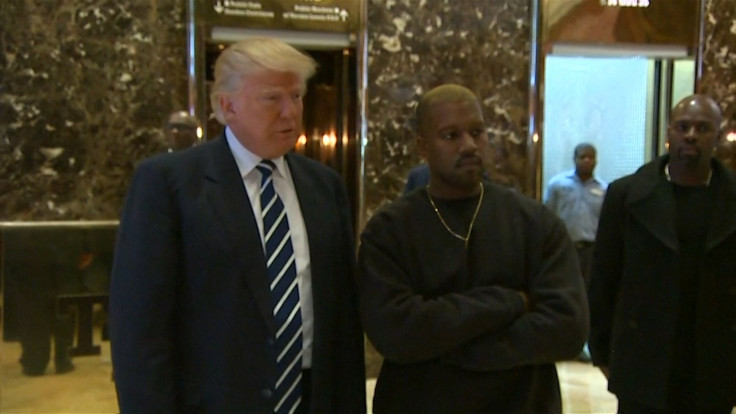 On Tuesday, West was seen arriving at the lobby of Trump Tower. While the primary reason for the 15-minute meeting was unclear, it is rumoured that the 39-year-old may perform at Trump's inauguration in January after the president-elect failed to secure the support of any high-profile artists at the event.
West later posted a series of tweets revealing he had discussed matters of 'bullying, supporting teachers, modernising curriculums, and violence in Chicago', with Trump.
Attempting to justify the meeting he added: "I feel it is important to have a direct line of communication with our future president if we truly want change."
He also shared a picture of a signed copy of the president-elect's TIME magazine Person Of The Year cover which read: "To Kanye you are a great friend. Thanks."
Appearing to remind his followers of his own ambitions to run for President, in a parting shot he tweeted: '#2024.'
West's wife Kim Kardashian reportedly turned down the opportunity to meet the president-elect, allegedly stating that she is "not a trump supporter".
In November, West surprised fans when he publicly endorsed Trump at a show on his Saint Pablo tour. During a lengthy rant, West said he would have voted for the republican over Hillary Clinton in the election, stating: "I said something that was kind of politically correct. I told y'all I didn't vote, right? What I didn't tell you... If I were to have voted I would have voted on Trump."
Kanye West and John Legend are close friends and have been known to double date with their wives Kim Kardashian and Chrissy Teigen.