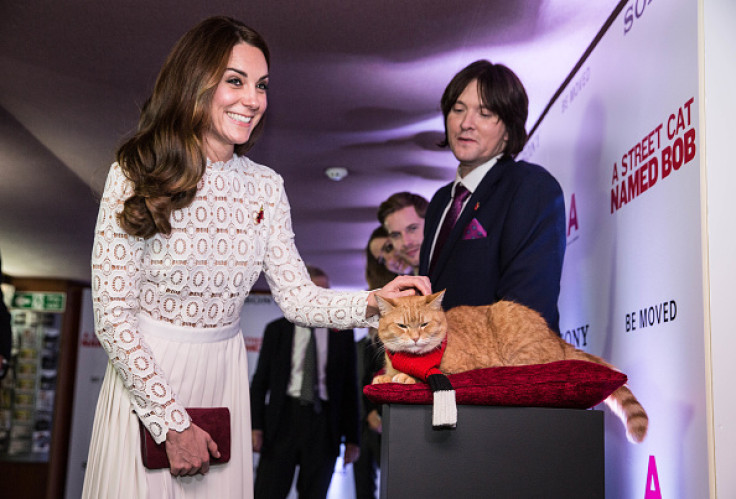 While Kate Middleton is accustomed to meeting movie stars, she received an unusual reception at the premiere of A Streetcat Named Bob.
She made a striking entrance in a £320 full-length lace dress with a daring thigh-high split by a new label known as Self Portrait. Kate, who is patron of Action on Addiction, a charity that helps those struggling with drug and alcohol abuse and their families, was attending the UK premiere of the film, in aid of the charity at the Curzon Mayfair, London.
And while the 34-year-old left even the biggest A-list stars awe-struck, Bob was apparently unfazed at meeting the royal.
The moggie, who has achieved a celebrity status all his own, was sat on a red cushion wearing his trademark scarf as Kate met the film's cast.
While the Duchess stopped to pet the moggie movie star, Bob seemed more interested in the cameras that were focused on them to capture the moment when Kate met the cat.
Stroking his fur, she asked Bob's owner, Bowen: "Is that purring or growling?"
James, 37, said he wasn't able to determine the cat's mood on meeting the Duchess. "I'm really not sure if that's purring or growling", he said, reassuring the famous feline as he had his brush with royalty.
He added that Bob, who has become a movie star, is quite accustomed to the cameras and the public attention, explaining he "takes the attention and the limelight all in his stride, as if it was every day.
"At home he likes to sit down and watch telly. He is a bit of the king in the house," he revealed.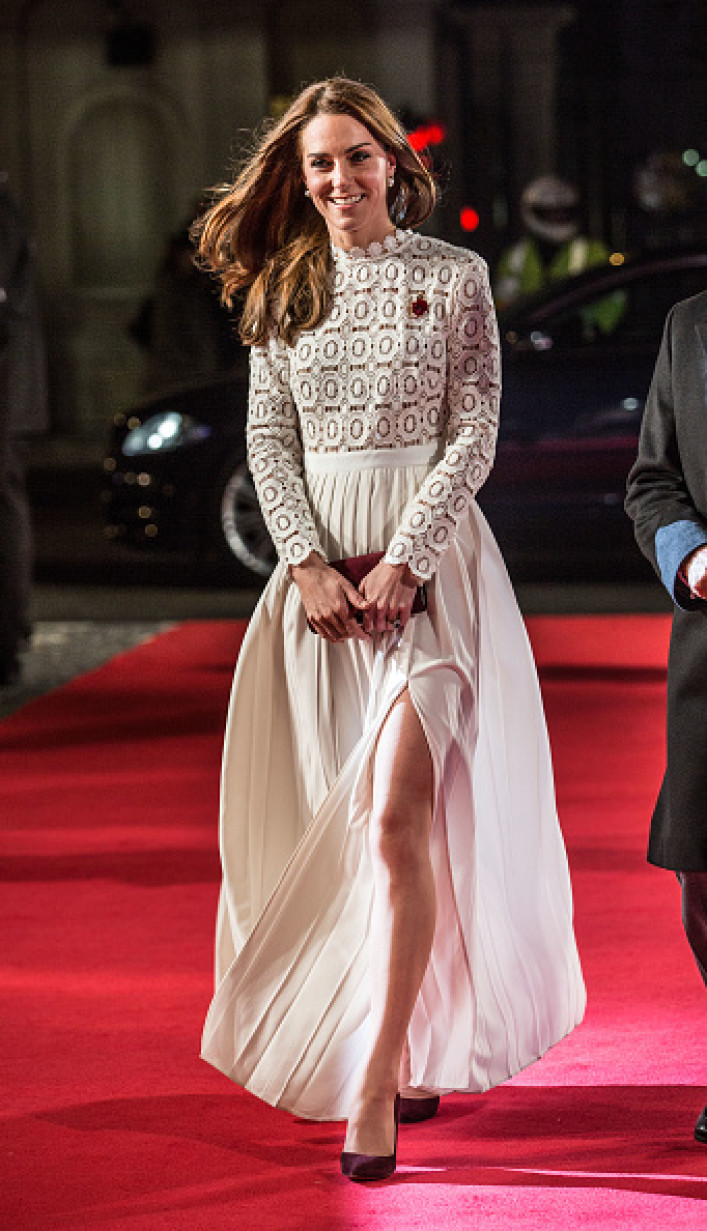 James credited Bob, who is now 11, with changing his life at a time when he was battling addiction and homelessness. James was living on the streets in London when he found the injured stray cat and nursed him back to health.
Befriending James, Bob refused to leave him, and after he followed him onto the bus a lifelong friendship was forged. The pair became a common sight in Covent Garden and Piccadilly Circus as Bob accompanied James when he was out busking and selling The Big Issue, perched on his shoulder and walking along on a lead.
The pair soon developed a huge fan following as members of the public loaded their videos on social media and the story of their unlikely friendship was told in a book which spawned the heart-warming movie.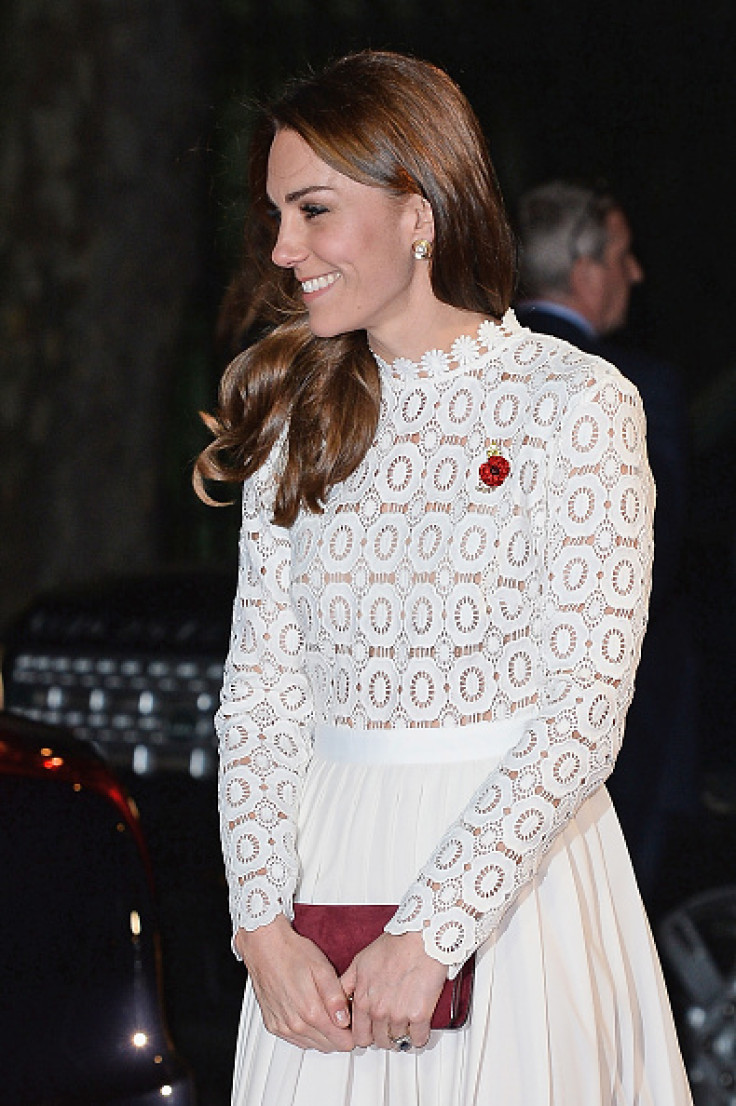 Describing how Bob helped him turn his life around James explained: "He came and asked me for help, and he needed me more than I needed to abuse my own body. He is what I wake up for every day now... he's definitely given me the right direction to live my life".
Speaking at the launch of the film Bowen told the Press Association: "'Bob bought me a house and allowed me to pay the mortgage on it, so he has been treating me very well.
"He's my baby boy. It was him following me about and going out with me that made me realise I didn't want to just exist anymore, I wanted to be a part of society."
Commenting on his own brush with royalty he added: "When I got the book deal, that was crazy and now, standing on the red carpet ... it's all been one crazy moment after another since I met this little man."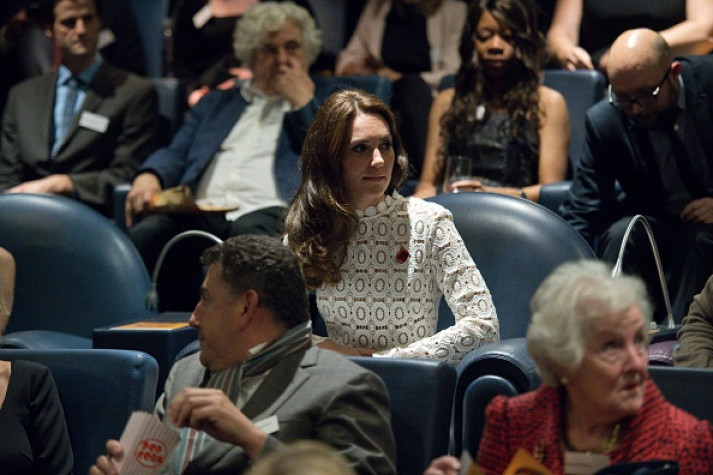 James's co-author Garry Jenkins presented the Duchess with a children's version of the book for Prince George and Princess Charlotte. While the children are a little too young to be reading themselves Kate explained: "We are reading a lot to them."
Actor Luke Treadaway, 32, who plays Bowen in the film, said: "The whole experience from the moment I got the script to right now on the red carpet has been so surreal and unique.
"I felt a responsibility to do it right. Researching the medical issues (associated with drug addiction) was the hardest part and I didn't want to gloss over the reality of that."
He said that after sleeping rough in the capital to prepare for the role he understood that it was the simple kindnesses that made all the difference to people forced to live on the streets.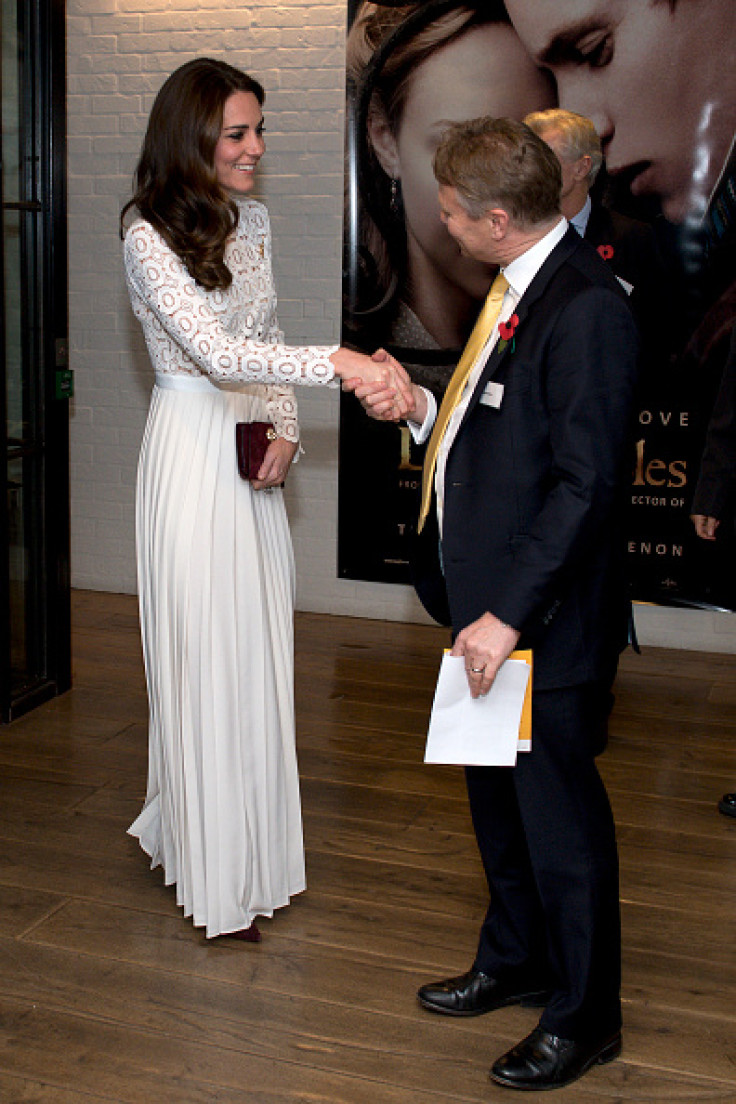 "'It really did open my eyes a lot. It doesn't take a lot to say hello to people, even if you haven't got any money to give them. Say 'hi'. Remind them and remind yourself that we are all just human beings spinning around in space and we can be kind to each other," he added.
Paying a special tribute to his feline actor, he added: "Bob was a treat, a great co-star."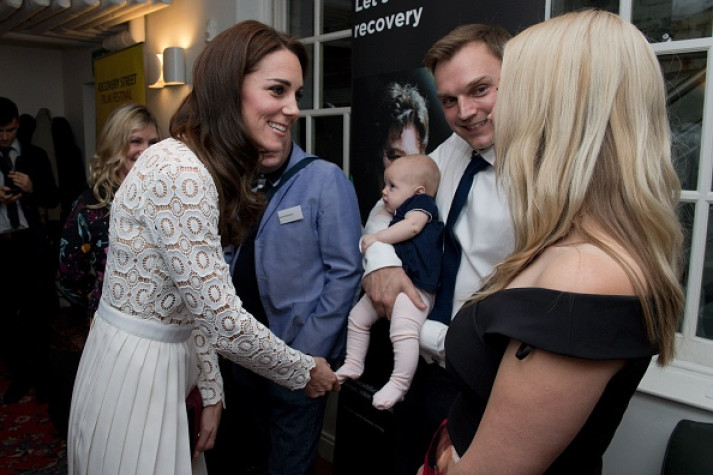 Earlier, the mother-of-two joined former addicts for a secret engagement as part of the Recovery Street Film Festival. The festival comprises films made by former addicts and their loved ones about life in recovery Mail Online reports.
It was established three years ago by a consortium of addiction charities, including Action on Addiction, and tours venues around the UK aiming to raise awareness of addiction, change the public's perception of it, and tackle the stigma surrounding the condition.
A Streetcat Named Bob releases on November 18. Watch the trailer below: