The next leg in the Duke and Duchess of Cambridge's Canadian adventure had them displaying their canoeing skills as they joined a team of rowers, headed to a remote archipelago off the west coast of Canada. The royal couple took their places in a 25ft Haida war canoe and paddled with 10 rowers to the beat of a pacer's drum as they set off to Haida Gwaii, formerly the Queen Charlotte Islands, in British Columbia.
As always they were accompanied by an entourage that included three community leaders, and two Scotland Yard bodyguards, who all took their places in the fibreglass canoe, which is a replica of the community's traditional historic Lootaa canoe - translated as 'wave eater'.
Dressed for the occasion in a Smythe jacket and blouse by Somerset by Temperley, matched with her favourite Zara jeans, Kate Middleton looked unruffled as she paddled for around 20 minutes through the crystal clear waters of the Kayilnagaay.
Arriving at the beach and heritage centre at Skidegate on Graham Island, William and Kate received an official welcome at the Haida Heritage Centre and Museum, from the President of the Haida Nation.
The royal couple were adorned in woven raven's tail scarves which are regarded as a sign of wealth and rank among the Haida people, who traded for the wool on the mainland.
The royal guests were then treated to a programme of traditional cultural performances including a dance by 30 local children.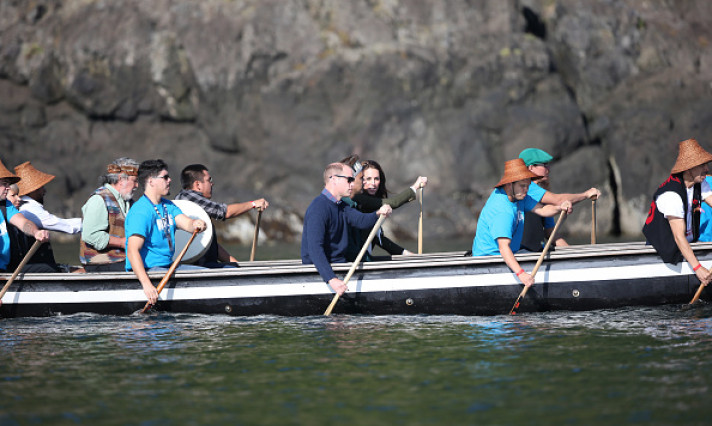 The Haida are a matriarchal society, who place much prestige on the birth of a daughter and in honour of Princess Charlotte, a group of women performed a dance, while the men paid tribute to Prince George, Mail Online reports.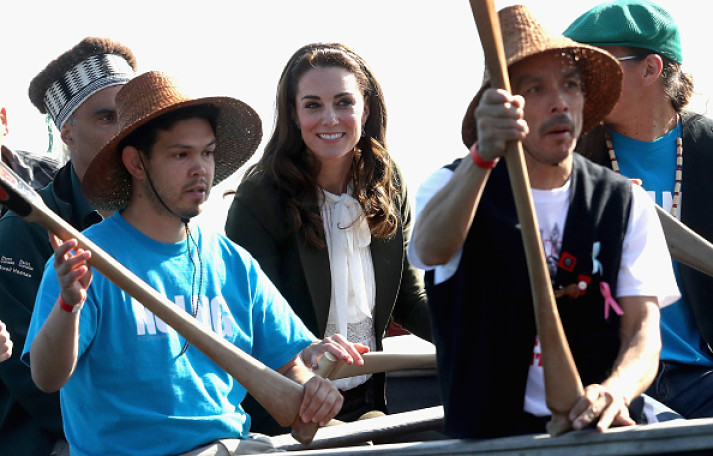 Prince William gave a short address, briefly speaking in the native Haida tongue. "Women of High Esteem, Chiefs, Friends, Aan t'alang isis ska-wada-gee id ga dalang kil laa, haaw - thank you very much for having us here," he said.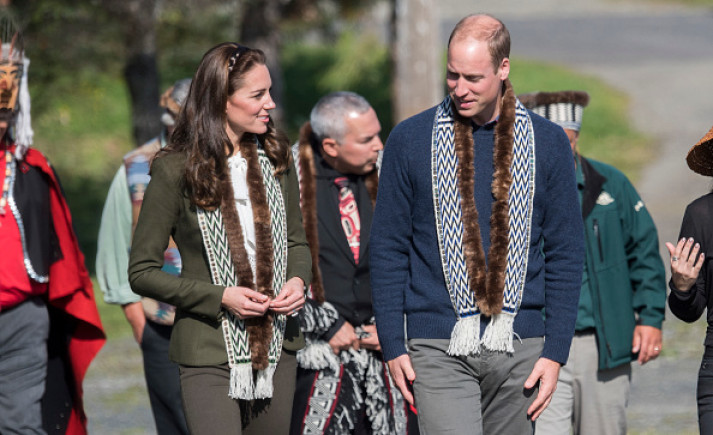 While Kate looked on, captivated by the unique insight into the culture and traditions of the Haida people, at one point she fell about in a fit of giggles after watching a dance representing the Haida people's relationship with the animal and spirit worlds.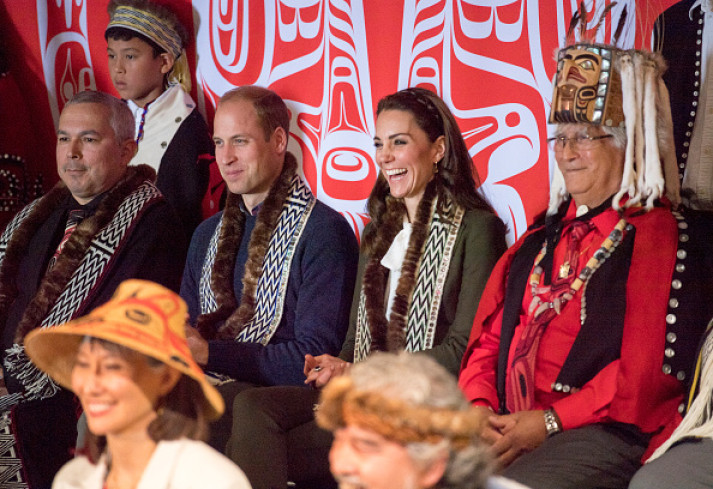 As a man hopped around wearing a wooden mask in the shape of a frog, the narrator said cheekily. "He's looking for a princess."
Fortunately for Kate, she has already found her Prince.