Kate Middleton has given a rare speech highlighting the importance of helping vulnerable children so they can fight the development of mental health issues. The Duchess of Cambridge took to the stage in front of headteachers from across the UK at the Place2Be conference held in London.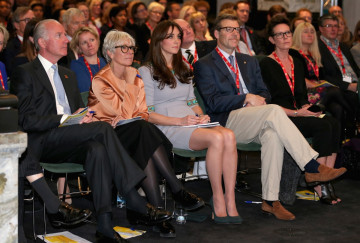 Drawing on her own 'wonderful and secure' childhood, the 33-year-old stressed that although she had been lucky, not all young people had the same strong support system to help them avoid problems in later life.
"I often get asked why I decided to spend time highlighting the mental health of children. I imagine my answer might be similar to many of yours. I know that I was lucky. My parents and teachers provided me with a wonderful and secure childhood where I always knew I was loved, valued and listened to," she told the audience.
"But of course many children are not so lucky. Since beginning my work in areas like addiction, for example, I have seen time and time again that the roots of poor mental health in adulthood are almost always present in unresolved childhood challenges."
Dressed in a previously worn £995 grey and green bejewelled Matthew Williamson dress, Prince Williams's wife went on to say that all children "deserve time, attention and love from the adults in their lives. These basic qualities are so much more valuable than the always changing material and social concerns that can seem so important to young people. "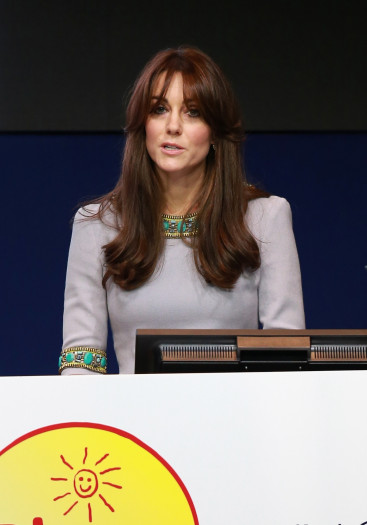 Middleton, who is royal patron for the charity, also reminded those present that it was "our duty, as parents and as teachers, to give all children the space to build their emotional strength and provide a strong foundation for their future".
She ended her speech by telling the teachers: "I hope you know that your work is valued."
For the outing the mother-of-two completed the look with dark green pumps and a matching clutch bag. Middleton wore her tresses in loose waves and could be seen struggling to contain her bouncy locks as she arrived at the event.
On Tuesday night the duchess was a special guest at the 2015 Fostering Excellence Awards, which celebrates the achievements of foster carers, young people, social workers and others within the fostering community. The mother of two presented three awards at the event, organised by foster care charity organisation Fostering Network and hosted by Holly Willoughby.
The fashionista wore a £555 belted royal blue dress by Indian designer Saloni for the event and Willoughby complemented her look with her own blue and black dress.
Place2Be provides emotional and therapeutic services in primary and secondary schools. Ahead of the conference Catherine Roche, the chief executive of Place2Be, said: "50% of adults with a mental health problem first experience it as a child. Just 6% of the annual mental health spend is on children. So early intervention is vital."
ggigguijgg