Katy Perry has received her award as Billboard magazine's Woman of the Year.
"I'd thought my year was over, that it was time to pass the baton. But I guess I get to hold onto it until the end of the year [laughs]. It's truly a lovely compliment. Seeing who has been honoured in the past - Beyonce, Taylor Swift and others - I'm in good company," Perry said in an interview with Jon Stewart.
Perry accepted the award on 30 November at a ceremony at the Capitale, New York. Billboard had named her as its Woman of the Year in September.
Back then, things weren't looking so good. Perry kicked off 2012 in a slump after her former husband Russell Brand filed for divorce just before New Year, but she had big things in store. Her career hit new heights with the extended and repackaged album, Teenage Dream: The Complete Confection. Part of Me, the lead single from the album, earned the star her seventh career number one.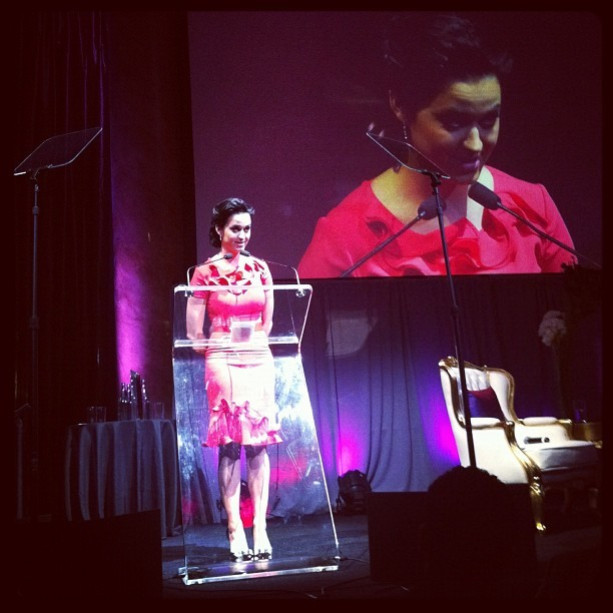 At Capitale for the Billboard Women In Music Luncheon, Perry looked gorgeous on the red carpet. She wore a figure hugging dress from Oscar de la Renta, combining it with an EFFY ring.
When asked how was the last two years had been, the singer replied, "It feels like the record that never ends [laughs]. I'm glad I'm still alive - 27 has been a very testing year. I feel I'm in the same position I was in after I made the first record. I toured [on] that and then made the second record and toured that. Now I'm at an in-between position again. But I'm not scared or feeling uncertain. It's still about coming from a very honest place to reconnect with my core."
Billboard editor Bill Werde explained that Billboard had chosen Perry as its Woman of the Year after being impressed by the emotional honesty of her tour movie, Katy Perry: Part of Me.
"I left the movie theater inspired by... Katy's strength, as did so many others around the country and the world. The staff discussed the Woman of the Year idea and within a week or two we had reached out to her management," Werde wrote.