Kelly Brook looked classy as she hit the red carpet, dressed in a stylish lace gown at London's Leicester Square for the premiere of her new comedy movie the Keith Lemon: The Film.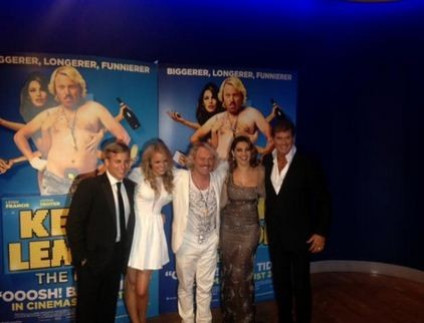 The actress and model looked gorgeous in the skin-fit one-shoulder outfit in grey and silver shade which had lace detailing and a mesh overlay embellished with silver sequins and beads. She opted for a matching grey handbag with beaded and black peep toe heels. Styling up her hair in classic movie star waves, she kept her look simple with smoky eye make-up and a burgundy lipstick.
Brook, who is not new to posing for photo shoots in lingerie and swimwear, admitted that she still gets nervous when it comes to taking off her clothes in front of the cameras.
"It's horrendous, I didn't know I'd be doing that but he got everyone doing all sorts," she was quoted as saying in Huffington Post.
"We all just wanted to do a film with him. He's just funny, isn't he, there's no one like him," she said. "He's crazy. He never sticks to the script, he always comes off the script so you never know which way he's going to go and you just have to keep a straight face," she said.
Comedian Leigh Francis who plays Keith Lemon, said he was able to rope in big name stars in his project after working with them on his television show Celebrity Juice, the BBC reported. He wore a white suit, with a silver-studded T-shirt, skull belt and crocodile print shoes.
"They got paid nothing. Most of them just wanted to come out and have a bit of fun and I think they all had fun," he was quoted as saying in Yahoo.
But Francis feels he is still not ready to enter Hollywood.
"They'd probably say 'We can't tell what you're saying so we don't want you'. I'm not bothered about fame. I'll still eat Scotch eggs."
Other celebrities at the event included David Hasselhoff, Ronan Keating, Fearne Cotton and Louis Spence.
The film sees the Yorkshire entrepreneur head to London and become an overnight billionaire thanks to his lemon phone case invention. And the success even leads him to date Brook who plays herself in the film.
Keith Lemon: The Film is releasing in the UK on 24 August.