Kelly Osbourne is set to launch an innovative clothing line in America next month.
The daughter of rock icons Ozzy and Sharon Osbourne has been teasing fans on her social media accounts by posting clues about her new venture. Her most recent post was a photo of a new tattoo on the side of her skull that reads "stories".
The speculation is now over, as the 29 year-old star will be unveiling her own fashion label called 'Stories' next month.
Prices of items will range from $55 to $170 (£33 to £100, €40 to €75). Along with the first collection, Osbourne will launch a website to encourage fans to share where and when they wore clothes from the line.
As the brand's name suggests, storytelling is the inspiration behind the line.
"I believe that every time you wear something, you have a story of where you wore it," Osbourne told Women's Wear Daily, "whether it be good or bad."
Clothes are memories
"What made me realise this was when I was going through my closet and I was like, 'Oh, I wore those shoes on stage every day when I was in Chicago', and 'I wore that dress to my friend's funeral', and, 'Oh my gosh, I wore that skirt on a date and it still has a stain on it from where I fell off the steps because he tried to kiss me, I didn't want to kiss him, and I broke my wrist. I can't get rid of that.' There are all these funny emotional attachments."
The Fashion Police presenter has already launched a successful beauty collection in the past for Mac Cosmetics, but this is her debut in the world of fashion design.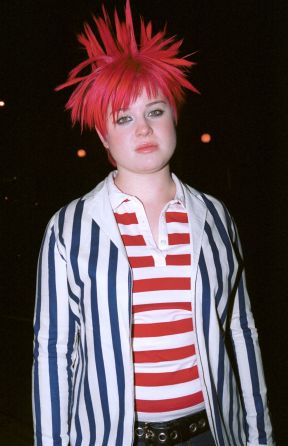 The lilac-haired fashionista's style has undergone a complete transformation over the years, as she used to portray a strong gothic look during her stint on The Osbournes reality show, which launched in 2002.
As the co-host of E! Entertainment's Fashion Police, she wears elegant outfits and glamorous gowns at red-carpet events.
Everywoman fashion
With Stories, fans can expect a mostly feminine line based on her current style but with a rock twist.
The first collection celebrates Osbourne's British heritage with Union Jack dresses, fitted pencil skirts, tartan blazers, chunky jumpers, and black moto jackets. They are designed to enhance feminine body shapes by incorporating a bit of stretch and shoulder pads.
With an emphasis on making clothes for all women, Osbourne is including a wide range of US sizes, from 0
to 24.
"It's really unfair that America has this disillusion that the most common size is size 14," she told WWD, "and that's only because that's as big as most fashion designers go."
Stories will launch on the American online retailer HSN on 25 September.