Kim Kardashian and Kanye West will celebrate two years of marriage on 24 May, so it is not surprising that the reality star is frustrated with reports of their imminent split. Following fresh reports that they were about to divorce, the 35-year-old star took to her website to finally set the records straight.
In a message to fans she insisted that reports of marital strife could not be further from the truth. "I've definitely had my fair share of dramatic relationships," she said. "But honestly this is the most calm and it's like 'nope' we are still together and we are happy so there's really nothing to report on."
Kardashian's comments come just days after an explosive tell-all tome claimed that KimYe's marriage was a sham. Ian Halperin's book titled: Kardashian Dynasty, claimed the Keeping Up With The Kardashian star's mother Kris Jenner Kris Jenner orchestrated the whole thing in a power move and West agreed to go along with it because he was enamoured by the 'momager'.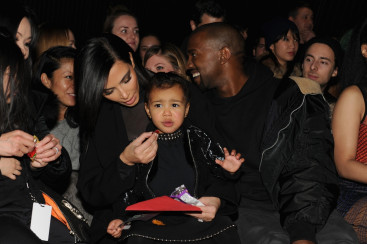 "He [Kanye West] was smitten with Kris Jenner," the source explained in the book, according to RadarOnline. "In fact, I don't think he would have married Kim if Kris Jenner wasn't on the scene." "[Kanye West] found Kris smart, loving, and business-savvy," the source said. "He was enamoured."
Kardashian also used online outpouring as an opportunity to silence critics who questioned her parenting skills. The mother-of-two was recently accused of 'ignoring' her daughter North West when she fell after a photo of them out and about went viral.
"North does this thing where she - if people are holding her hands she's just wants to be like, 'Swing me, carry me'. She didn't stumble, she was just playing around so she didn't stumble," she explained.
She added that the image was misleading because it didn't show what happened before. "I was like, 'Northy, come on, stop,' and so I got my keys and I went to look forward and they got the picture of her being silly and her messing around and they were like, 'Kim doesn't even look around and she doesn't even care,' but she was just being silly."