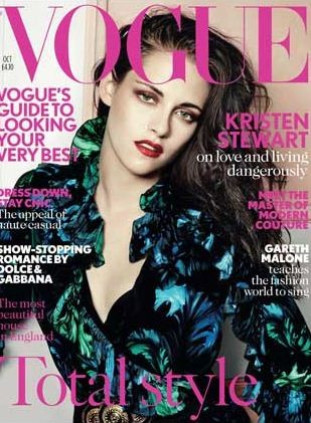 Twilight star Kristen Stewart has spoken out for the first time after she was found cheating on long-time boyfriend and co-star Robert Pattinson with married director Rupert Sanders.
The 22-year-old, seen on the cover of the UK edition of Vogue's October issue, talks about relationships, fame and her public image - and admits it is difficult to handle the spotlight and all the attention she receives.
"I know if you haven't thought about how you want to present a very packaged idea of yourself then it can seem like you lack ambition. But, dude, honestly? I can't," Stewart told Vogue.
"People expect it to be easy because there you are, out there, doing the thing that you want and making lots of money out of it. But, you know, I'm not that smooth. I can get clumsy around certain people.
"Like if I were to sit down and think, 'OK, I'm really famous, how am I going to conduct myself in public?' I wouldn't know who that person would be! It would be a lot easier if I could, but I can't."
The star also discussed her recent film On The Road, and how she struggled to adjust with the blonde hair she had to adopt for the role.
"I feel like my whole body rejects it, but it was really important for the character. It was like learning an accent!" she said.
Stewart plays MaryLou, a character based on the young wife of Neal Cassady, in the film adaptation of Jack Kerouac's cult classic novel On the Road.
Cassady was a member of the beat generation, a group of youth in the 1950s who rejected conventional society and inclined to Zen Buddhism, modern jazz, free sexuality, and recreational drugs. Stewart says she feels a strong connection with that era.
"There is always going to be that seam of people who want things differently to the standardised version. It's not necessarily a rebellious thing, it's just who they are," she said.
"That world back then, it just seems freer to me than anything I could ever touch and I'm fully nostalgic for it, even though I wasn't even alive then. It's the loyalty aspect of it all.
I love being on the periphery with a group of people who have the same values that I do. People who don't get off on fame, who just like the process of making movies and thrive."
The stills have been taken by Mario Testino and Stewart looks stunning in a Gucci dress.