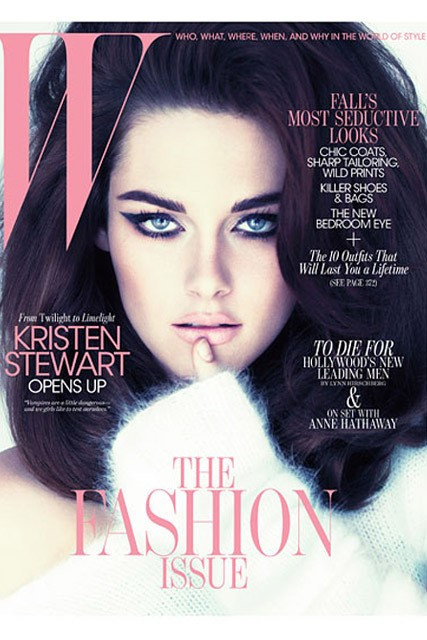 Vampire hit Twilight sees its leading lady Kristen Stewart go glam in her first photo-shoot for a high-end fashion magazine.
It seems Stewart has put Bella to one side, ditching the classic moody look for an edgier glamorous look, while filming a cover shoot for W magazine.
Entertainment Tonight has revealed a sneak peek of the making of the glamorous Kristen's W photo-shoot.
Sporting mesmerizing smoky eyes and a sixties bouffant do, Kristen - who also graces the cover of this week's Entertainment Weekly, alongside Twilight co-star Robert Pattinson - looks a million miles away from her Twilight alter-ego, Bella Swan.
The child star, who is the leading lady in the upcoming Twilight movie "Breaking Dawn", told the magazine: "I'd been anticipating that end-of-Bella moment. I was going, Oh, my God-I wonder how I'm going to feel. And the last scene of the shoot was at the wedding," quoted the Daily Mail.
She added: "We needed to film one more sort of honeymoon scene and we went to the Virgin Islands. After that scene, my true final scene, I felt like I could shoot up into the night sky and every pore of my body would shoot light. I felt lighter than I've ever felt in my life."
WATCH Kristen behind the scenes on her W shoot here: