Kym Marsh has gone from pop princess to soap queen in a very public transformation over the years. On Monday (13 June) the actress, who is best known for playing Michelle Connor on the cobbles of Coronation Street celebrates her 40th birthday.
Before her Corrie character became entangled in sinister plot lines and endured a tumultuous marriage with Steve McDonald (Simon Gregson), the raven-haired star first staked her claim to fame after winning singing talent show Popstars in 2000.
Her band, Hear'Say, broke chart records with their debut single Pure and Simple, but their second album failed to make such an impression.
Marsh left the group in 2002 and embarked on a solo career, with her album, Standing Tall, spawning two top 10 singles. But in 2006, she swapped the microphone for a television script and joined Coronation Street as the sometimes inauspicious Michelle.
Her character first appeared on screen during an episode on 3 April 2006, and has enjoyed leading storylines including her serious relationship with Steve and the disturbing revelation that her son had been swapped at birth.
Other key milestones in her Corrie career have also involved the death of her eldest brother Paul (Sean Gallagher) in 2007, and the murder of her much older brother Liam (Rob James-Collier in 2008).
Viewers were also shocked by the minibus crash which she survived, her doomed romance and engagement with Ciaran McCarthy (Keith Duffy) and the prickly relationships with her sisters-in-law, Carla (Alison King) and Maria (Samia Ghadie).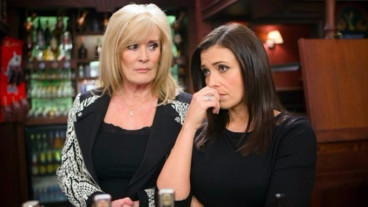 Personal life
There was not always focus on Marsh's blossoming career as her personal life made headlines following her marriage to EastEnders' actor Jack Ryder crumbling in the public eye, with the pair divorcing in 2009 after seven years.
She later found happiness with actor Jamie Lomas and the couple married in 2012 but also divorced in 2013, with Marsh citing unreasonable behaviour as the cause. The former couple have one daughter together, Polly.
Marsh has done her fair share of shocking the nation with her character Michelle to leave her real-life woes out of the picture.
Michelle's most recent storyline shook up soap fans after Steve left Weatherfield and Saskia introduced her to her new fiancé, Will. The fresh face turned out to be Michelle's first boyfriend and sparks began to fly between the former lovers. The pair eventually acknowledged their feelings for one another, and when Steve didn't return home for Michelle's 40th birthday, they kissed.
As the plot continues to unravel, Corrie fans have threatened to boycott the show as Michelle has walked out on Steve, according to The Mirror. The couple's relationship broke down ever since she confessed to cheating, to the point where Steve's daughter no longer feels welcome at their home.
The split sparked uproar on social media sharing site Twitter, with one user writing: "@itvcorrie if steve and michelle break up for good am not watching anymore!" while another posted: "@itvcorrie pls Don't split Michelle & Steve up."
Whatever the outcome, it is clear that Marsh has made an impression as her character on the hit ITV soap, and will no doubt enjoy a few more years in the world of showbusiness.