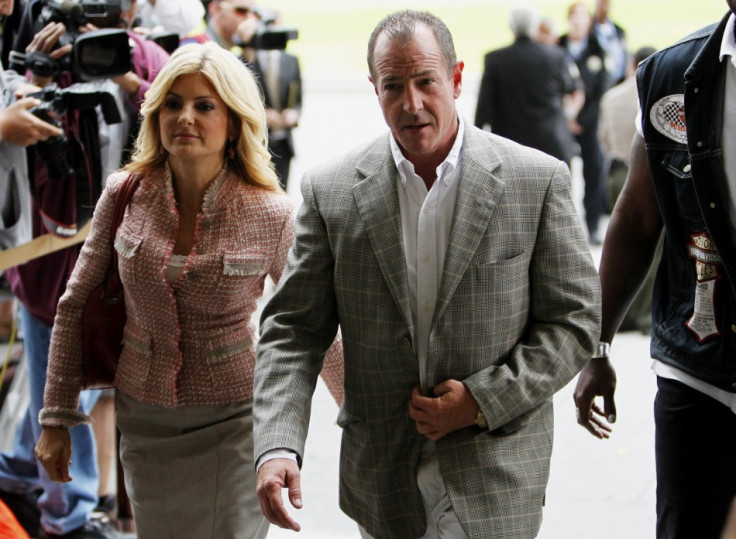 Lindsay Lohan's father has been arrested in Florida on domestic violence charges against his on-off girlfriend.
Michael Lohan, 51, was arrested after police said he a fight broke out and he grabbed his on-off girlfriend Kathryn Major's arms and pushed her down several times after her refusal to perform a sexual act on him.
Another argument was due to another scheduled court date on a previous domestic violence case against her.
After being placed into custody, Mr Lohan complained of chest pains and was taken to nearby St. Joseph's Hospital to be checked by medics. He later tried to escape, but was caught by officers and placed into Tampa's Hillsborough County Orient Road Jail without bail.
Lindsay Lohan's One Million Dollar Playboy Shoot: Her Life Through the Years
Police arrived at Major's condominium to respond to a domestic violence call. They could hear a woman yelling "stop" and "leave me alone."
According to Ms Major, Lohan had banged his own head on the bathroom door which left a dent and that he intended to blame her for injuring him if police came.
Ms Major already has a temporary domestic violence injunction against Lohan but let him stay on the night of the incident.
He is expected in court on Wednesday.
Meanwhile, Lindsay Lohan could also be set for a return to jail in California after a judge last week ruled she violated probation involving a community service assignment.
The 25-year-old was given probation for a 2007 drunken driving case and a theft case this year.
A November 2 court date was set to decide whether she should go to jail.