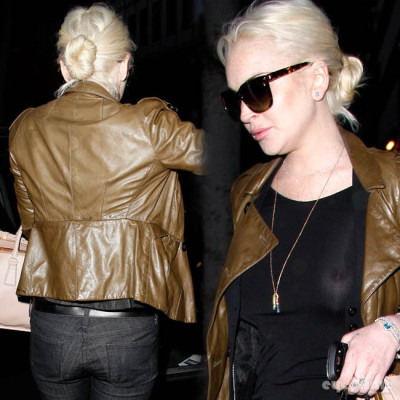 With every season comes a new celebrity trend and Spring/Summer 2012 is no exception.
In recent weeks, stars including Lindsay Lohan, Miley Cryrus and Rihanna have been spotted championing what appears to be the latest fashion movement: The bra-free look.
Lindsay Lohan, still hot off the press from her infamous nude Playboy shoot, flaunted her perky assets with a tight see-through transparent black T-shirt during a recent shopping trip in Beverly Hills.
The 25-year-old embattled star, who was reportedly paid $1million (£600,000) to pose in her birthday suit for Playboy, gave onlookers more than an eyeful in her provocative choice of attire.
While popstar Rihanna, known for her raunchy antics, put her bosom, complete with nipple piercing, on full display in a totally sheer lace dress when she rang in the New Year in Miami.
The 23-year-old We Found Love hitmaker, was seen this weekend donning a long maxi dress without a bra when she returned from her Hawaiian holiday.
Miley Cyrus's cleavage has also been making headlines after she decided to jump on the braless bandwagon.
The 19-year-old singer channelled her inner hippy when she recently showcased her twins in head-turning flimsy tank top and extremely revealing ripped denim shorts.
Forget floral and bold prints, 2012 is officially the year of the nipple, or so these celebrities seem to think.
Can they pull off the braless look or is a brassiere desperately needed?