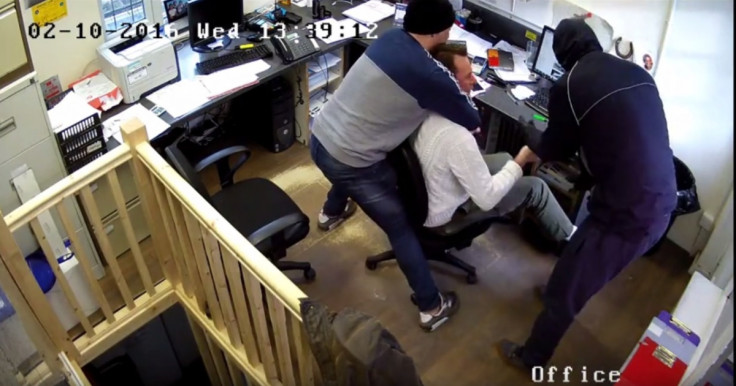 Met Police detectives have released shocking CCTV footage of the moment masked thieves held down a London businessman and rip a £15,000 gold Rolex watch from his wrist before making off. Extraordinary CCTV footage shows one of the men strangle the 46-year-old man from behind as he sits on an office chair, while another grapples him from the front.
The victim throws a punch and tries to kick one of the men away before he is manhandled to the ground. From there one of the assailants wrenches the man's arm into a painful position behind his back before unclasping the luxury Gold Rolex Yacht Master timepiece and disappearing out the office door just 46 seconds after they entered the premises at 1.38pm on 10 February.
Cowering on the floor, the victim gets to his feet and is seen shaking before picking up the chair he was sat on. The men ran out of the shop towards Middle Park Avenue in Eltham, and climbed into a black Peugeot 206 containing another male and female before making off into broad daylight.
Suspect 1 is described as a white male, 25-30 years and of medium build with a goatee beard, while the other man is described as white male, 38-40 years and of medium build with a scarred complexion. Detective constable Andrew Payne, investigating officer from Greenwich, said: "The suspects stood outside the van hire shop in broad daylight for some time, appearing to look at the price list before entering and violently attacking the victim, choking him to the point where he lost consciousness.
"Luckily the victim did not sustain any serious injuries and did not require hospital treatment. We have taken the decision to release the footage to show the level of violence used, and ask the public for help in apprehending the persons responsible.
"We believe the victim was targeted by the suspects to steal his watch. We are keen to identify them and would ask anyone with information to come forward. If they are seen, do not approach and call 999 immediately."
Anyone who recognises these men or can provide information on their whereabouts should call detective constable Andrew Payne from Greenwich Serious & Acquisitive Crime Unit on 020 8284 9449 quoting reference number 203578 (suspect 1) or 203580 (suspect 2) or call Crimestoppers anonymously on 0800 555 111.
UPDATE - Video footage has been removed after 27-year-old man was charged over the robbery.