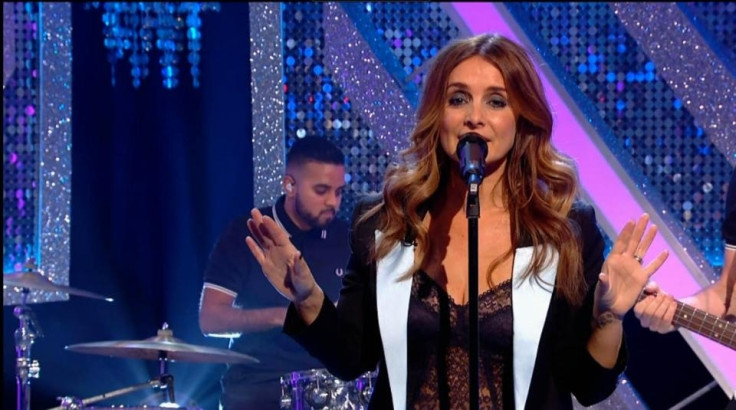 Louise Redknapp's strained relationship with husband Jamie and her growing closeness to former Strictly Come Dancing partner Kevin Clifton have put the singer under intense media scrutiny in recent weeks.
But putting her marital problems aside, Louise spent some quality time with son Beau, 9, at the Winter Wonderland in London yesterday (20 December).
The Eternal star shared an Instagram snap with the caption: "My little man #beginningtofeellikechristmas #winterwonderlad #fun #rollercoster "
Louise's family time comes after she was spotted with Kevin on a night out earlier this week. The pair had grown close during Louise's stint in the BBC reality show Strictly Come Dancing in 2016.
They hung out at a bar in London with friends and are said to have looked comfortable and laid-back in each other's company.
Both Jamie and Kevin's wife Karen are reportedly upset with their partners' close relationship. This led the former footballer to ring Karen and share his concerns.
It was over the phone that Karen allegedly warned Jamie to keep his wife away from her husband because she believed that Louise was ruining their marriage of two years.
A source previously told The Sun: "He made the decision to call Karen without Louise's knowledge, which was a very hard thing for him to do.
"He asked Karen if he thought their partners were having an affair. Karen was very upset at the time and that's when she asked Jamie to try and keep Louise away from Kevin."
After participating in Strictly, Louise has been working hard to revive her career. She has taken on the lead role in a touring production of Cabaret and is set to release an updated version of her previous hit number Naked.
In addition to her closeness to Kevin, this decision of Louise's did not sit well with Jamie.
The Naked singer separated from her football pundit husband back in June. They were married for 18 years and share two sons together, Charley and Beau.
Louise is thought to have filed for a divorce earlier this month, but is willing to spend one last Christmas together with her husband Jamie.
Woman magazine reported: "She wants her boys to experience at least one final family Christmas before she and Jamie make a decision over their marriage. Louise misses what she has – there's no denying that."
Kevin and Karen, meanwhile, will be celebrating the holidays with their respective families. Since their marriage, this is the first Christmas they will be spending away from each other.
A source told The Sun: "Karen will fly to New York and spend [Christmas] with her family while Kevin plans to travel up to Grimsby to be with his.
"Right now they are just trying to get through the last two weeks of Strictly and then need some space,
"They will get back together after Christmas and decide what they are going to do.
The dancer had shared Instagram pictures from New York yesterday, where she's seen unwinding with her nieces.