Emmerdale star Lucy Pargeter is the latest celebrity to be evicted from the I'm a Celebrity Jungle.
The 36-year-old actress, said she was "happy" to be going home.
Pargeter won friends and enemies in the camp, often clashing with Miss Great Britain Amy Willerton, who the actress claimed was not pulling her weight. She admitted that her straight talking style might have been the cause of extra tensions in the camp.
'I'm very straight talking and can be very direct," she explained. "It's hard. I don't want to cause any agro that's not necessary. It was mentally hard, physically fine but I had a few hard days in there dealing with other people."
Responding to the show's Geordie hosts as to the reason for her evident animosity towards Willerton, Pargeter explained: "Going into this was all about teamwork. We're going in as team and if one person doesn't do that it's going to pee me off. That's a really disrespectful thing for the group. She's an absolute beauty but if anyone's not part of a team that makes me mad."
Before making her final exit, the feisty brunette had one last bushtucker trial to face, along with Westlife star Kian Egan and royal deisgner David Emanuel. For "In a Spin," the remaining contestants had to sit in perspex spinners which they shared with snakes, a monitor lizard and a whole host of rats.
Coming face-to-face with the oversized reptiles, Emanuel exclaimed: "Oh god. Keep calm David. Keep very calm. It's at moments like these that I can't quite believe I'm doing this."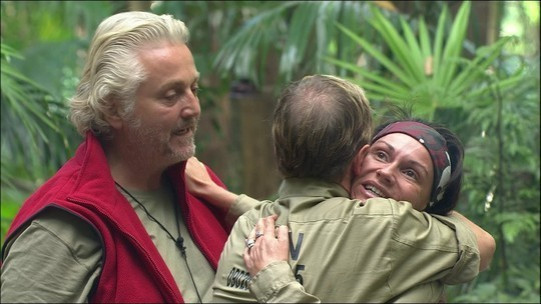 And as the snake unexpectedly made his way up the designer's shorts, he shouted: "Oh no. He's gone straight in my pants," 'Oh god. Please God."
The traumatic trial won them two out of a possible three stars for camp. "It's not bad, it's not brilliant, but it's absolutely fine," said Pargeter. Commenting on Emanuel's ordeal she said: "I can't believe you had that bad boy up your pants."
"This is the second time I've ever touched a snake and yeah, he was big, but I did it, I actually did it. Brilliant," he replied.
Leaving the jungle experience behind her she added: 'I'm so happy right now', adding that she "couldn't wait to get back to her family."
With the Emmerdale star voted out of the jungle, it's a battle of the boys as pop star Kian takes on the royal designer in a bid to be crowned King of the Jungle.
Watch I'm A Celebrity on ITV 1 on 8 December at 9pm.