New York, Florida, California, London. Rockstar's Grand Theft Auto series may rightfully be the benchmark for open world crime games, but the array of locations it has spanned across its 18-year history leaves a lot to be desired.
Rockstar has a habit of revisiting the same cities over and over, despite there being an entire planet's worth of interesting, vibrant cities to set one of their games. One such city is New Orleans, and it's here that Hangar 13 is bringing the Mafia series. The result is looking very promising indeed.
Mafia 3 was the biggest new game announced for Gamescom. Of course this was by virtue of being one of the only games announced for the trade show in Germany, but that's beside the point. The game generated a lot of hype following its impressive debut trailer (below) because it surprised viewers with its setting, timeframe and leading man.
The first two Mafia games played up to what people expect of that word. Italian families, fedoras, tommy guns, the lot. Mafia 3 is a stark contrast – set in the Big Easy in 1968 with a black protagonist looking for somewhere to belong following a stint in the Vietnam War. When Lincoln Clay arrives in New Orleans he falls in with 'The Black Mob' who are soon wiped out by the Italian Mob – pushing Clay to set up his own crime organisation and eventually take his revenge.
On paper New Orleans sounds like an excellent location, particularly during such a turbulent time for the US. The Civil Rights Movement was in full swing creating tension between white and black communities and the nation was split on the ongoing and devastating war going on 8,500 miles away.
If Martin Luther King's assassination (which happened in 1968) or the ongoing protests against the Vietnam War don't figure in Mafia 3 in some fashion, then Hangar 13 has missed a trick. Throw in the sexual revolution and drug culture of the '60s and there's a wealth of possibilities that at the very least should help define Mafia 3 as a very different beast from its predecessors and any other open world crime epic on the market.
In action the game's setting looks as impressive and individual as you'd hope. 2K put together a very polished live demo at Gamescom 2015, perhaps hinting that the game's 2016 release date could be more like summer 2016 and showing us a sizeable 20-minute slice of the game in action.
Technically there wasn't a great deal that blew me away, but the sense of vibrancy in the world was immediately engaging. It was a behind-closed-doors demo so it's no surprise we got to see the world at its most active, but for now let's give the developers the benefit of the doubt.
Clay walks like he has a chip on his shoulder, an animation befitting the sketch of a character drawn by the announcement trailer. He's angry and very possibly damaged by his experiences in Vietnam, he is an orphan, he saw friends die in the war and then his adoptive family in New Orleans too – who wouldn't have a share of issues?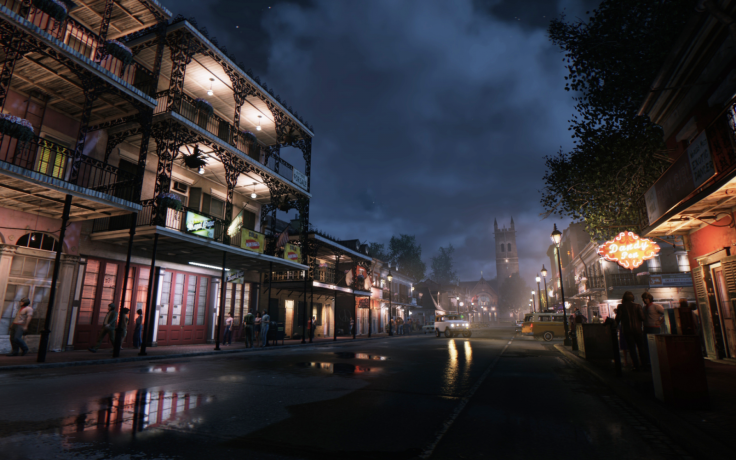 My hope that this also feeds into the game's violence, which was as gratuitous as you'd expect from games that strive to be violent when they don't need to be (the Assassin's Creed series for example). However, it may well be fitting here if Hangar 13 explores the psyche of Clay and the violence of his actions feeds into it.
Gameplay will be familiar to anyone who has played GTA or a previous Mafia game. There's a city, you can drive, you can take cover, you can shoot and there can be multiple ways to approach each mission.
There were plenty of nice touches in the demo, such as driving dangerously to get intel out of a passenger and having the option to intervene in police matters if it looks like they're harassing someone, but it isn't the mechanics that make Mafia 3 such an exciting prospect. It's the possibilities of the setting and story Hangar 13 could tell with it and all the while Rockstar are probably throwing darts at a dartboard with New York, California, Florida and London on it.
Mafia 3 is set for release on PS4, Xbox One and PC in 2016.
For all the latest video game news follow us on Twitter @IBTGamesUK.