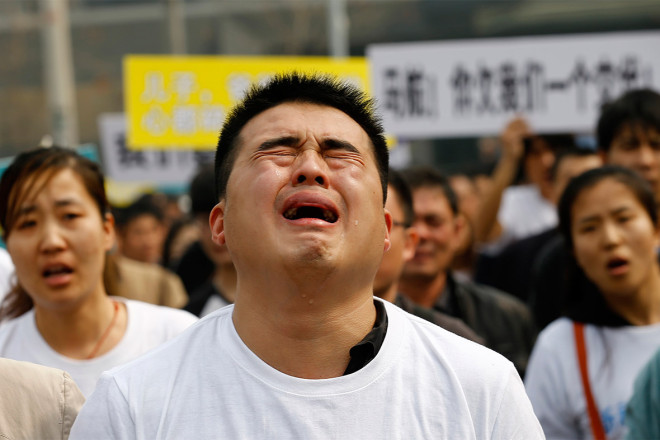 Malaysian authorities said a vessel with the ability to detect signals from black boxes is due to arrive in the southern Indian Ocean, where search efforts for missing Malaysia Airlines Flight MH370 have been refocused.
The announcement came after Malaysian prime minister Najib Razak said that according to new satellite data there was no doubt the jetliner carrying 239 people had plunged off Australia's western coast.
"The American Towed Pinger Locater - an instrument that can help find a black box - is currently en route to Perth and will arrive tomorrow," Malaysia's transport minister Hishammuddin Hussein said.
"The system will be fitted onto the Australian ship Ocean Shield, which is due to dock in Perth on 28th of March."
Hussein said Ocean Shield was then due to arrive in the search area at the beginning of April.
The underwater locator beacon inside the black box is one of the key remaining clues that could explain why the Kuala Lumpur to Beijing flight disappeared five days ago over the South China Sea.
The minister said six Chinese ships already arrived in the search area, which has been narrowed to some 469,407 nautical square miles, from the initial two million.
"They are expected to arrive within the vicinity of MH370's last known position by tomorrow morning. These ships include the ice breaker 'Xue Long'," he said.
Australian Navy ship HMAS Success was also in the area, although Australian authorises said they have suspended the search for possible debris of the plane for 24 hours because of bad weather.
Hussein said that because of the new data, the search for the Boeing 777 has been called off in all other regions.
"The search and rescue operation in the northern corridor has been called off. We have also stopped the search and rescue operation in the northern part of the southern corridor, close to Indonesia. All search efforts are now focused on southern part of the southern corridor."
Hussein said that according to satellite data provided by British company Inmarsat and analysed by the Air Accidents Investigation Branch, the last known position of the Boeing 777 was "in the middle of the Indian ocean west of Perth."
Experts warned that the black box has to be located within the next few weeks before the lifespan of the locator ends.
If the deadline expires without the black box being found searchers' work will became consistently harder, although investigators faced a similar situation when Air France flight 447 mysteriously disappeared in June 2009 over the south Atlantic.