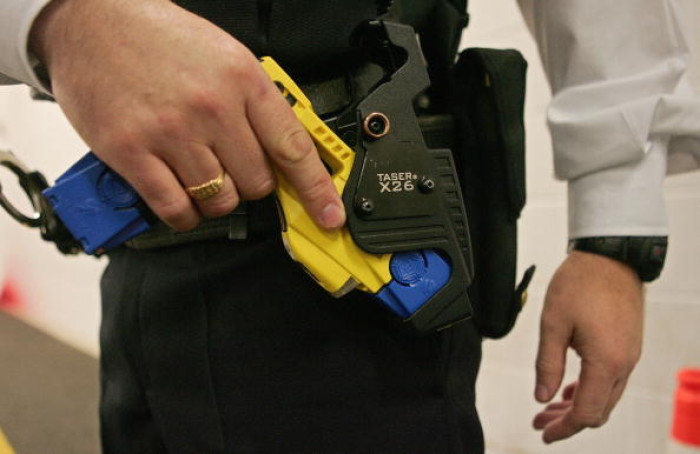 Manchester police Tasered a knife-wielding man outside a primary school in Longsight on 12 February, 2015.
The 30-year-old shouted abuse at people waiting outside St Luke's Church of England Primary School on Langport Avenue and pushed two women to the ground before walking away.
Police officers then spotted the man carrying two knives, which he used to threaten the officers, who then used a Taser before arresting him on suspicion of affray after verbal and physical assault.
Detective Inspector Gareth Davies, said: "First and foremost, I would like to reassure the public that this man is safely in custody and is being overseen by specially trained staff.
"He was verbally and physically aggressive to members of the public, causing understandable distress to those parents who had arrived to pick their kids up from school.
"Officers arrived within minutes and were able to quickly resolve the situation, ensuring no harm came to the wider public, the man or the officers themselves.
"Every day we respond to dangerous incidents involving potentially dangerous individuals who can be armed with deadly weapons, and so the bravery of those involved and their determination to resolve this incident swiftly and safely should be highlighted and commended."