With the start of the New Year, weddings are very much on the minds with brides-to-be preparing to tie the knot in 2016. With that in mind, India's most celebrated designers descended on The Dorchester, London for the second, annual Aashni + Co Wedding Show showcasing the finest in designer bridal wear.
Fashion luminaries including Anamika Khanna, Anju Modi, Manish Malhotra, Sabyasachi, Varun Bahl, Akanksha Gajria, Ridhima Bhasin, Gaurav Gupta, Masaba, Rimple Narula, Samant Chauhan, Sonali Gupta and Paras Modi of SVA brought a touch of Indian style and wedding excitement to the event. But the main attraction was designer to the stars Manish Malhotra.
The famed designer, who this year celebrates 25 years at the top of his industry, showcased his own stunning collection of original bridal wear. Describing the advantage of a bridal fashion event catering specifically to a UK Asian audience he told IBTimes: "What's really good is that there are so many designers all together in one venue and it's a chance for the public to see originals. Because I feel a lot of time overseas, whether its America or London, it's full of replicas," he explained. "For people who don't travel so much they probably won't even know that this is the case. What is good is that they get to look at the originals they'll understand pricing, what is happening in India today, what designers in Mumbai and Delhi are doing. Its' a nice association and relationship that's begun between consumers in London and designers."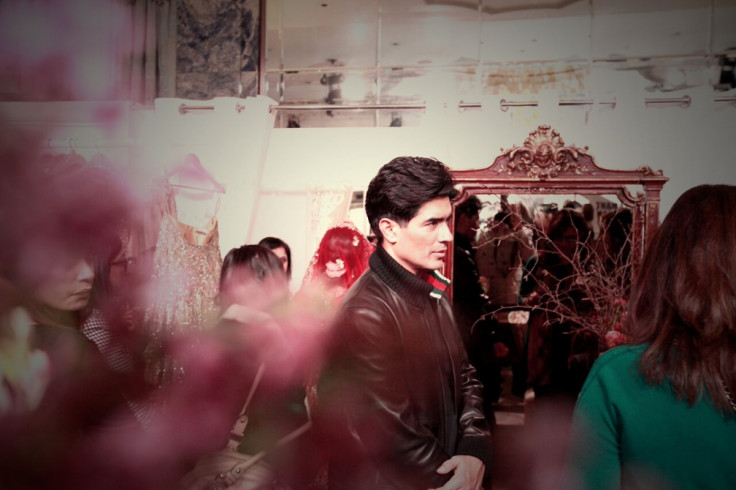 Malhotra has designed costumes for Bollywood movies and dressed a plethora of international stars in his sumptuous garments, from Bollywood actors Aishwarya Rai Bachchan, Kareena Kapoor Khan and Shah Rukh Khan, to A-list stars from the west such as music icon Michael Jackson, actress Demi Moore, supermodel Naomi Campbell and pop princess Kylie Minogue.
But the designer, whose ever-youthful looks belie his 25 years in the industry, said that today's brides-to-be are no less discerning and deserve to feel just like a movie star on their big day. "I think the brides-to-be today are absolutely aware. They're all on Instagram, they know their angles and they know which designer they're going to wear. They are very clear" he explains.
"I think everyone has their own story for their wedding, whether it's cross-cultural wedding where you want both influences or a winter wedding. So every wedding has its own story and since I had been a stylist for the movies for so many years I think about all the elements, lights, make-up, hair, what her jewellery is, what does she want to do. I like that. It's not just about selling a garment, Its about being part of the most important day of their life."
Anju Modi, who designed the costumes worn by Priyanka Chopra and Deepika Padukone in Bajirao Mastani, and winning the Filmfare Award for Best Costume Design, drew inspiration directly from Bollywood for her bridal collection.
She told IBTimes: "I've brought a lot of the Persian prints that I've used in Bajirao Mastani. As you can see it has a very unusual colour combination to it. I'm using mint green and raspberry brought together. So the unusual colour combination was my take on this fashion show.
Describing the close correlation between cinema and fashion she added: "The Bollywood stars are the best muse for us on the silver screen, especially my designs and my styling is very much influenced by cinema. Its looks so attractive on the screen and everyone aspires to wear that and they relate to it. I have had so many enquiries as a result of the movie Bajrao Mastani".
Revealing what it was like to dress Deepika Padukone and Priyanka Chopra for Sanjay Leela Bhansali's epic period drama, she gave much of the credit to the actresses for showcasing her costumes so beautifully on celluloid. "I would say they also add a lot of charm to the costumes, with their own sense of style, their carriage, their beauty and their physiques. That has certainly added to my garments."
And her advice to the bride-to-be looking to create a spectacular wedding trousseau? " Be comfortable. Don't be a fashion victim. Work with the designer to determine your own style. Wedding dresses no longer just have to be the traditional red. I would say break the monotony of wearing red. Go for another colour a pink, a lovely mustard yellow combination with a nice hot pink, so I think they should look very vibrant, desirable and still be, comfortable."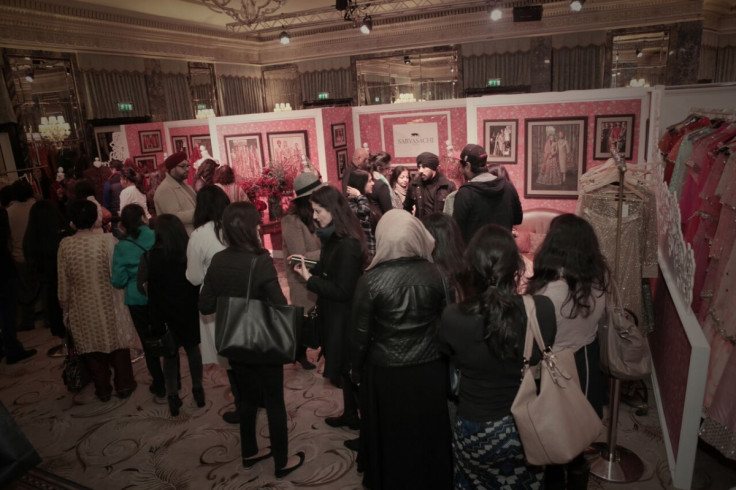 The event also featured floral styling by Zita Elze, who recreated a breathtaking, enchanted garden installation in The Dorchester's iconic Gold Room that left visitors awe-struck
While the bridal show drew an eager crowd of visitors to the exhibition, the designers themselves were also impressed by the staging. Sabyasachi said: "Aashni's show is terrific. She always manages to get an avalanche of people in. It was exhausting but it was very well organised and I think she has become the most important interface between Indian designers and NRI brides who don't normally get to meet the designers face to face."
Anamika Khanna added: "It's such a pleasure to be at the Aashni + Co Wedding Show. I am really enjoying it. It's spectacular, it's beautifully put together, it's curated, the space is beautiful, and all the designers are here. The amount of people that were here today is overwhelming. Well done Aashni."
Commenting on the UK audience Gaurav Gupta said: "The crowd here is great today. London loves to take risks in fashion, which is great for me. And what an incredible event. Aashni has done a wonderful job in putting this all together."
Aashni + Co Wedding Show 2016's official charity partner was The British Asian Trust, founded in 2007 by HRH The Prince of Wales.