Matt Damon admits he feels 'lucky to have found his wife', and suggests Ben Affleck is 'all good'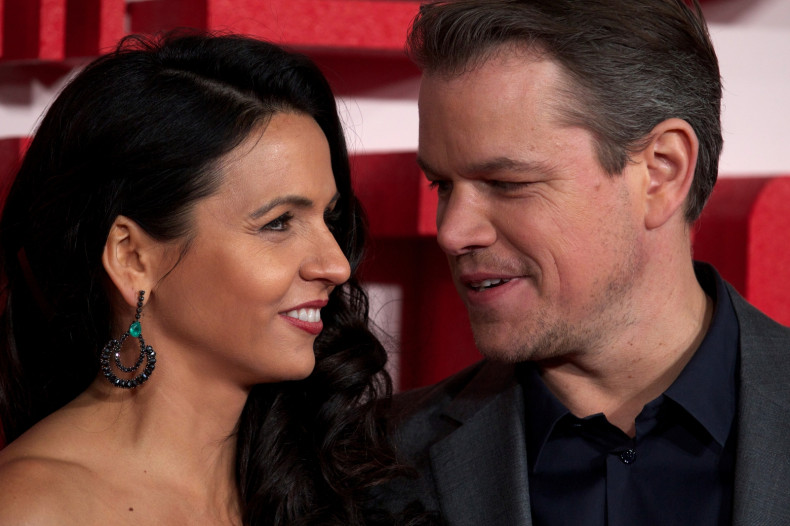 While he'll undoubtedly be helping best friend Ben Affleck out during his divorce from Jennifer Garner, Matt Damon and his wife Luciana Barroso are preparing to celebrate their tenth wedding anniversary at the end of this year. But even though the couple will be hitting a milestone not seen too often among Hollywood marriages, Damon admits the whole concept of marriage is a bit odd.
"I think marriage is insane," the 44-year-old told Entertainment Tonight at a press junket for his latest film, The Martian. "It's a crazy idea but I love being married to my wife." Damon met then bartender Luciana in 2003 when he was filming his movie Stuck On You in Miami.
Even though Damon will have been married to Barroso for a decade come December, he "wouldn't tell anybody else about their relationship", as he puts it down to pure luck that he found his wife. "And I guess maybe, if there's any secret ... it's to feel lucky," he stated. In fact, the actor even went on to suggest there can't be any guaranteed guidelines on how to have a happy relationship, especially if you live your life in the limelight, as "so much of it is out of your hands".
He said: "I mean, I just had that conversation with my father this weekend. He says the same thing to me. Says it's God's grace, is what he said. Because you just don't get lucky."
Damon has been friends with fellow actor Affleck since early childhood, both of them hailing from Cambridge, Massachusetts. The pair won their first Academy Awards together for best screenplay for the 1997 film Good Will Hunting which they both co-wrote and starred in. Both having grown up in Massachusetts, they have been fans of the Boston Red Sox for many years but Damon said they unfortunately weren't together when the baseball team won for the first time since the year they won their Oscars. A day which also happened to be Affleck's birthday, and despite being in the middle of an "awkward" divorce, Damon insisted that Affleck was doing well.
"I was in Boston with my family actually. It was kind of a meaningless, it was 43 you know? It wasn't that big," Damon confessed to ET. "I think he was actually in Atlanta with his family. So we missed each other but...he's good. He's good."
The Martian, directed by Ridley Scott, will be released in the UK on the 30 September. Alongside Damon, the film boasts a star-studded cast including Jessica Chastain, Chiwetel Ejiofor, Kristen Wiig, Kate Mara and Jeff Daniels.