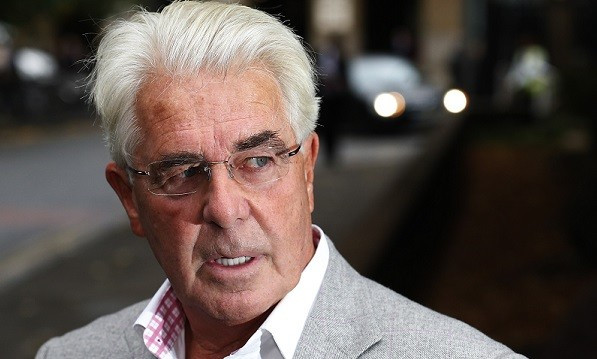 Former PR guru Max Clifford has been arrested by detectives from Operation Yewtree over fresh sex allegations, it has been reported.
Police have not named the individual who was arrested today, but did say that the man was 'not new' to the Operation Yewtree investigation.
Scotland Yard said: "This is not a new individual to Operation Yewtree. This is not an 18th individual." The spokesman said the man has been arrested "under the strand of the investigation we have termed Others."
Clifford was named on Twitter by Mark Williams-Thomas, the man who exposed Jimmy Savile's crimes in an award-winning ITV investigation. He wrote: "Max Clifford (71) arrested today re allegations of sexual offences, He was interviewed at a police station in Peterborough. #OP.Yewtree'.
"As previously stated today's arrest of Max Clifford relates to number of separate allegations of sex offences that CPS have been advising on," he added.
Clifford, 71, was jailed for eight years last May after being convicted of a string of indecent assaults, carried out between 1977 and 1984. The judge said he also believed the testimony of other "supporting witnesses" who had also made serious allegations against the self-professed PR guru.
He was shown to be a manipulative sex offender, who used his celebrity connections to lure women, who he then sexually assaulted. Many of his victims had been teenagers looking for opportunities in show business.
He is currently serving his sentence at Littlehey Prison in Cambridgeshire. In November, Clifford lost an appeal to have his jail term cut, with judges ruling it was "justified and correct". It is understood that today's arrest relates to a number of separate allegations of sex offences.
Following Clifford's sentencing last year, Scotland Yard confirmed that other people had come forward with more allegations.
Detectives have so far spoken to 17 people as part of the Metropolitan Police's Yewtree investigation which has been running since October 2012. Operation Yewtree is the police probe set up in the wake of disclosures that former BBC DJ Jimmy Savile was a prolific paedophile.
The investigation has three strands of inquiry. One relates to Savile's crimes and the second relates to allegations against Savile and others. The third strand, under which Clifford is understood to have been questioned, concentrates on accusations unconnected to the Savile investigations, but which emerged as a result of the publicity surrounding the late DJ.
Last month, Gary Glitter, who was the first person to be arrested under Operation Yewtree, became the fourth high-profile figure to be convicted under the investigation.
Former Radio 1 DJ Dave Lee Travis and children's entertainer Rolf Harris have also been found guilty of historic sexual offences.