All eyes were on Meghan Markle and Prince Harry on the third day of the Invictus Games when they made their first public−and PDA-filled−appearance as a couple.
It had taken over a year, but arriving hand-in-hand for the wheelchair tennis semi-final as the world media looked on was yet another bold statement by the lovebirds determined to do things their way. With the pair laughing, gazing into each other's eyes, and refusing to shy away from physical contact as they watched from the sidelines, it was easy to forget that that man on the Suits actress' arm was royalty.
"Of course, couples hold hands all the time," Psychologist and body language expert Judi James tells IBTimes UK. "It's a relatively bland gesture in terms of sexual intent and if anything, it's rather cute and infantile but for a royal it is mega and Harry must know it."
In comparison, Prince William — who is weighed down by the prospect of being the future king — needs to adhere to stricter guidelines when it comes to his public appearances.
The Duke of Cambridge made his public debut with the Duchess when she watched him receive his wings as a qualified RAF pilot from the Prince of Wales at a ceremony in Cranwell. While it was clear that they were besotted at this point, they were not outwardly affectionate. It is important to note, that even after six years of marriage, they avoid holding hands in public.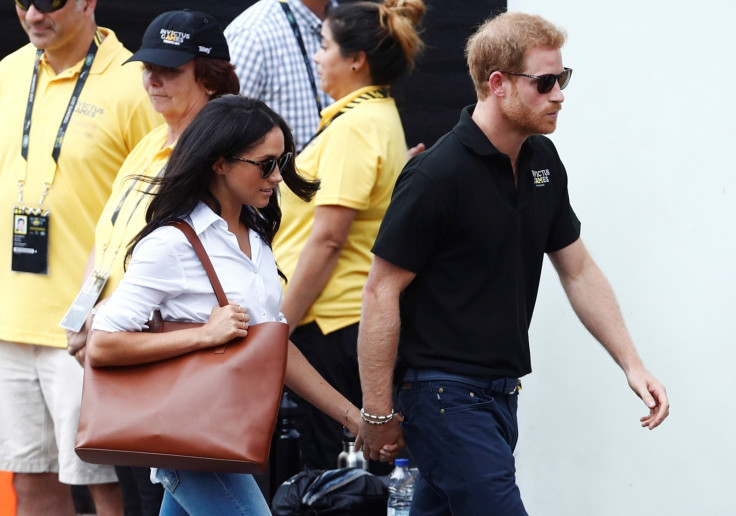 Royal commentator Richard Fitzwilliams says that after Markle's candid Vanity Fair interview, it was not surprising that they once again decided to throw caution to the wind.
"This was very well arranged as the opening showed Harry with VIPs and Meghan sat nearby which was what he felt he had to do but yesterday spoke volumes," he explains. "They seemed happy, casual and the so called "The Husband" shirt Meghan wore was saucy fun. Strolling hand in hand was the ideal statement that they love each other and are so very relaxed together. Never has wheelchair tennis had spectators like this for half an hour!"
Fitzwilliams believes that this is the biggest hint yet that the couple will make it down the aisle. "I believe an engagement is imminent, probably this year."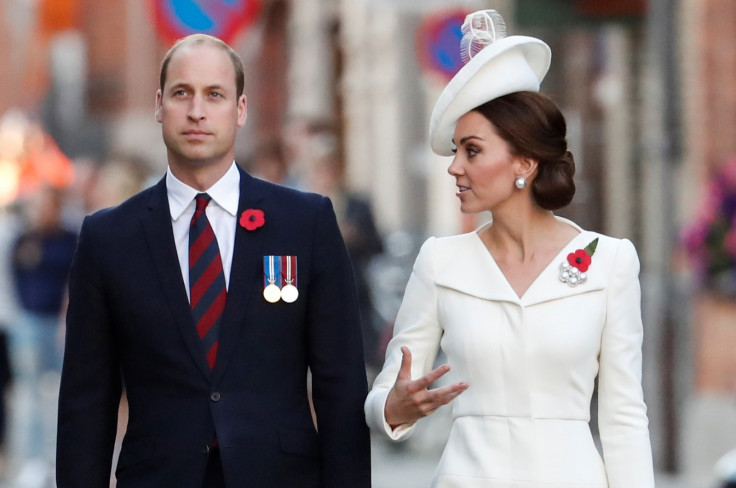 But it will not be a smooth ride. Even more so than Kate, Markle — a mixed-raced divorcee — needs to prepare herself for the constant scrutiny that comes with marrying into royalty. "We will discover how they cope under the ceaseless and obsessive, especially in this case, glare of publicity which they currently are mainly able to control," he adds.
Paul Burrell recently warned Markle of the pitfalls of overexposure, saying it would be a struggle to maintain any vestige of privacy as their romance blossoms.
Trevor Engelson, Markle's producer ex, is already trying to cash in on his short-lived marriage to the TV star with a comedy with a royal twist. Deadline reports that Fox has already committed a pilet to the show after reading the premise: "Divorce is hard. Sharing custody is harder. Sharing custody with the British Royal family when your wife marries a prince, in the unforgiving spotlight of London's tabloid media, is next level."
As a result of the frenzied interest around her royal romance, the 36-year-old was the most Googled actress of 2016.
Fitzwilliams points out that going forward that there are greater questions about what the future holds for Markle, who is also a Global Ambassador for World Vision Canada and Advocate for the United Nations Entity for Gender Equality and the Empowerment of Women.
"It is thought she would be giving up her career but as well as an actress she is also a humanitarian activist and she will find, if she marries Harry, that being royal means she can do so much more for the causes she believes in, at the cost, of course, of personal privacy," he says.
However, James fears that what was the culmination of a well-executed campaign to solidify Markle's role and officially introduce her into the royal circles may backfire after a year of fighting for their privacy. "I know everyone is keen to see their favourite royal marry off but I'd suggest the fever-pitch speculation needs to calm down this time, given the circumstances of both him and Meghan.
"Harry had a tragic childhood but he has also had more freedom and less responsibility than his brother William. If he does decide to cherish the single life for a few more years let's hope he doesn't feel under pressure to conform or explain."
James adds: "They have some huge cultural differences to cope with which will require massive life, career and behavioral changes for one or both of them too. Will Meghan drop her acting career for a Middleton-style life? Or will we be seeing Harry going celeb and embracing the Hollywood lifestyle? Or will the pair drop everything and live abroad to do charity work?"