Microsoft has announced the Surface Studio, an all-in-one Windows 10 computer to compete with Apple's iMac.
Revealed at a media event in New York on 26 October, the all-aluminium has a 28in touch screen which is 12.5mm thick and has a resolution higher than Ultra HD.
The computer is 'the thinnest desktop monitor ever created', Microsoft claims. With 13.5 million pixels, the 28in display has a resolution which is 63% greater than an Ultra HD television. Pixel density is a claimed 192 per inch, which Microsoft says is a one-for-one match for printed paper.
What this means, is a printed A4 sheet of paper is the same size in reality as each page of a Word document on the screen.
The Surface Studio's display is hinged on two chrome arms so it can be tilted down and drawn on with a stylus. Microsoft is using the Studio to debut a new accessory called the Surface Dial, which can be placed on the screen and used to control various aspects of the user interface. Working with the stylus in one hand and dial in the other is how Microsoft sees professionals working with the computer.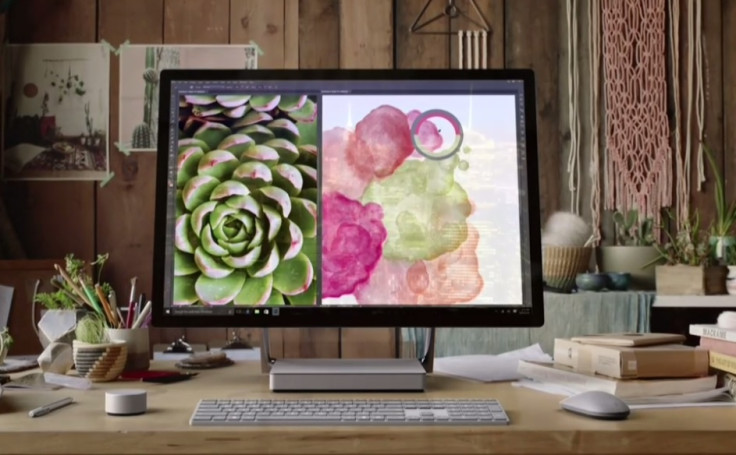 With 'TrueColor' technology, Microsoft claims the display's colour accuracy is second to none; with this, the Surface Studio will be welcomed by professional video and image editors. A software tweak includes a quick way to adjust the colour profile of the screen to match that of its user's client.
"Think about the screen first", Microsoft said, referring to the display as a "floating sheet of pixels". This approach means the hardware of the computer is housed in the base and not behind the screen.
As for performance, the Surface Studio is powered by an i7 processor with up to 32GB of RAM and 2TB of storage. An HD camera with auto exposure sites inside the screen bezel, along with an integrated microphone array for video calls and interacting via voice commands with Cortana.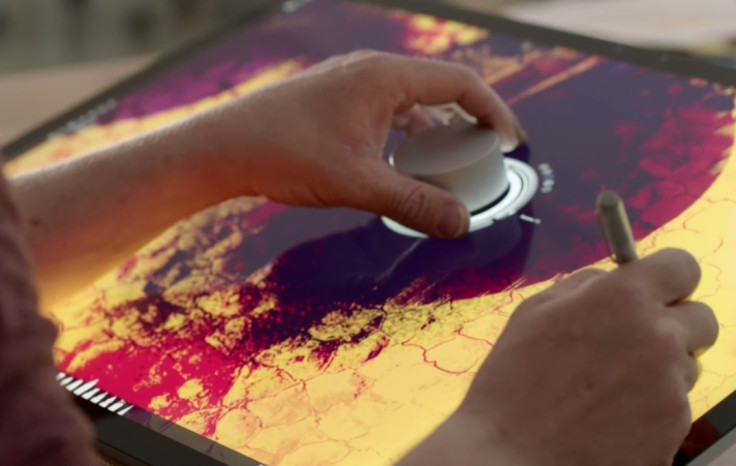 The Studio Surface also works with Microsoft's Surface Pen stylus to sketch and write on the screen. Microsoft demonstrated how the stylus and keyboard work together to create a comic book storyboard on the Surface Studio.
Microsoft is pricing the Surface Studio at between $2,999 and $4,199 (£2,450 and £3,430) depending on specification. Pre-orders are open now, but UK prices are not yet available. The Studio will be available "in limited quantities" in time for Christmas.