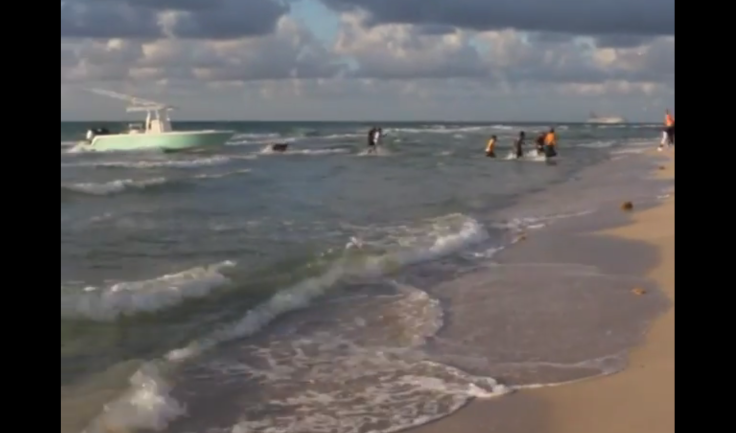 Ekaterina Juskowski was shooting a video for her model friend on 10 July when she inadvertently caught a group of migrants swimming ashore and landing in Miami Beach.
Juskowski, a Russian immigrant told reporters that she noticed a blue-green boat in the background of her video and thought it was "ruining my video". She decided to temporarily shut off her camera until she noticed a group of men of about nine jump off the boat and swim ashore.
According to the New Times Broward-Palm Beach, the men left their boat in the ocean and ran into the city, never to be seen again.
"That's a testament to how confident these organisations are — what we call transnational criminal organisations — who smuggle criminals and narcotics right onto the beach," US Border Patrol spokesman Frank Miller told the newspaper. Miller said the incident was being investigated.
He added: "There has been an increase in known maritime smuggling in Florida — from Key West all along the Florida coast — from fiscal year 2014 to now."
Juskowski told the paper that as an immigrant, she had a more compassionate view of the men. "Witnessing people starting their life anew by jumping off the boat and running into the city made my personal struggle seem rather small," she said.
"As controversial as the problem of illegal immigration can be for many of us, it is important to remember that people come here in search of the better life, and it comes at a very high price of great courage, hard work, and loneliness. I got to know America as a country with a big heart. While I trust it to the US government to work out the politics on improving the immigration laws, it feels natural to stay compassionate and understanding on a personal level," she added.
The incident is not the first for Miami Beach. On 9 February, nine migrants — one woman and eight men — came ashore in Miami Beach. Miller told the Miami Herald that the migrants included five people from India, two from Jamaica, one from the Bahamas and one from Haiti. The boat in which the migrants traveled in was seized and the migrants were interviewed.
Miller also told the Miami Herald that nearly 400 Cuban migrants have arrived in Miami since 1 October 2014. According to the dry-foot/wet-foot policy, Cuban migrants who arrive on US soil are permitted to stay. However, Cuban migrants intercepted at sea are returned to the island nation.