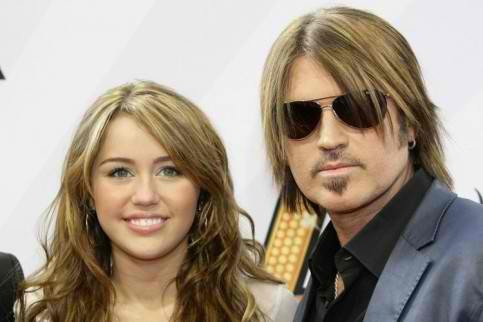 Miley Cyrus will walk down the aisle soon, but she still remains her father's doting little daughter.
A close moment between Billy Ray Cyrus and Miley was captured and posted on Twitter. The Hannah Montana star was hugged by her father Billy and is seen giving a peck on her neck.
The 50-year-old has voiced concern about the wedding at a young age and hopes the couple would last much longer, Radar online reports. But the Achy Breaky Heart singer seems to accept his children's decision.
"All I ever hoped for as a Daddy was to see my kids reach their dreams. To find happiness...peace of mind ...and someday know... true love," Billy tweeted.
The Party in the USA singer has tried proving she has made the best choice. Last month in an interview, the singer/actress compared her current beau to her father because they were both workaholics.
"My Dad has always been a really hard worker so I like when men work hard," Cyrus was quoted as saying in Celebuzz. "I always work really hard, so it is good to have some that is as passionate at what they do and wants to be great at what they do, instead of just being okay. We always strive to have 130 per cent."
The 19-year-old is engaged to 22-year-old actor Liam Hemsworth and are planning their dream wedding in winter.
"Miley is for sure in engagement bliss and can't wait to get married," a source was quoted as telling Hollywood Life. "She wants to pick the perfect wedding dress and is having a blast on dealing with wedding plans. Eloping has been talked about but Miley being very religious and being all about family, she wants to have a huge wedding and that will be most likely the case."
"This fall/winter is strongly being considered," the source added, "But no date has officially been picked."
The Disney star has been dating Hemsworth off and on since they met, in 2009, on the sets of The Last Song. Their relationship was declared serious when the Hunger Games star proposed to Cyrus, on 31 May, with a 3.5-carat diamond ring from jeweller Neil Lane.