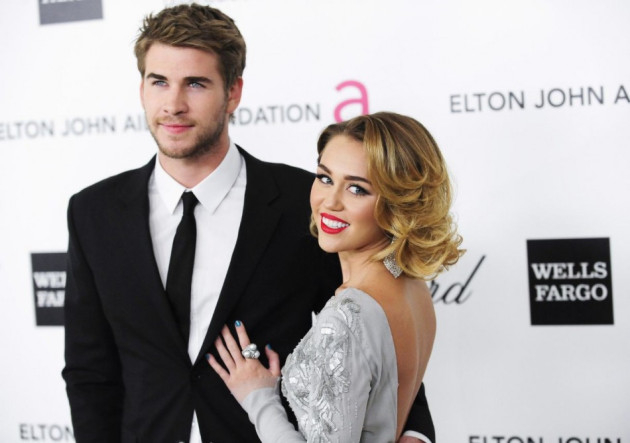 Miley Cyrus has unfollowed her fiancé, Australian actor Liam Hemsworth, on Twitter, fuelling speculation that the couple have split. Hemsworth was in the news recently after he had been accused of sexting actress January Jones.
"I want to [expletive] you," read one of Hemsworth's texts to Jones.
There were rumours that earlier this year Jones made out with Hemsworth at a private party after they were spotted leaving the Grey Goose pre-Oscar party at the Chateau Marmont.
"They went to a private house party, and right in the middle of the party, January was clinging to Liam, saying, 'You're so handsome,'" a source told Life & Style magazine.
"He kept saying, 'We can't do this here.' They then left holding hands and went out in the hallway and were making out. She was wasted. It wasn't good."
Sources close to the couple told the magazine that they had already called it off.
"Liam and Miley haven't officially split, but it's over. It's just that neither wants to pull the trigger," a source has been quoted as saying.
Meanwhile, the sparks which Cyrus' performance at the MTV VMA's generated have not died down as yet. There has been so much outrage over the performance that viewers are demanding federal action over the raunchy dance routine. Cyrus provoked moral outrage after she slipped into a flesh-coloured plastic bikini and performed a duet of Blurred Lines with Robin Thicke. Cyrus however, bragged about her shocking performance.
"Smilers! My VMA performance had 306,000 tweets per minute. That's more than the blackout or Superbowl! #fact," Cyrus tweeted to her fans on 26 August.
The 20-year-old former Disney star broke the Twitter record after her sexually explicit performance of We Can't Stop and Blurred Lines duet with Thicke, 36, at Brooklyn's Barclays Centre garnered an unprecedented number of comments on the social media micro site.