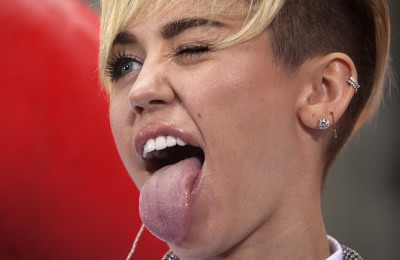 Miley Cyrus is reportedly not serious about getting into relationship with Kellan Lutz.
The former Disney star was romantically linked with the 28-year-old actor after she was spotted kissing him at a party in Las Vegas after attending the opening night of Britney Spears' Piece of Me show.
"They have hooked up and will probably hook up again but Kellan is in it more [than] Miley. He is enamoured by her," a source told Hollywood Life. "But Miley is strictly having fun and doesn't want to get serious, so Kellan better play it cool or he will not get to hook up with her anymore - she isn't giving him the relationship that he wants."
"They have known each other forever. They have always been good friends but it turned romantic a couple of weeks ago," a source revealed, "They have very similar outlooks. I am not sure if it has a future but they have great chemistry so for the time being they are just having fun."
Lutz had split from Australian actress Sharni Vinson in May last year after 18 months of dating. Meanwhile, the Wrecking Ball singer and Australian actor Liam Hemsworth had called off their engagement too.
"Neither of them is planning anything long-term right now, they are just enjoying themselves. They are both spontaneous, fun people, so their personalities match," the insider added.
Adding on, other reports claims that Cyrus thinks Lutz is using her for fame, as his new Hercules film is set to release.
"The timing of these hookups are suspect to Miley. She thinks that he might be using her for the media aspect of things," an insider told celebrity gossip blogger Perez Hilton, "He has a movie coming out next week and a lot of late night shows and other places will cover [their relationship], and will want to book him on their shows. So she is very suspect of his true intentions, that is the main reason she isn't diving into a relationship with him."