Miranda Kerr engaged to Snapchat founder Evan Spiegel: Orlando Bloom's ex 'extremely happy'
Victoria's Secret Angel has been dating the self-made billionaire for over a year.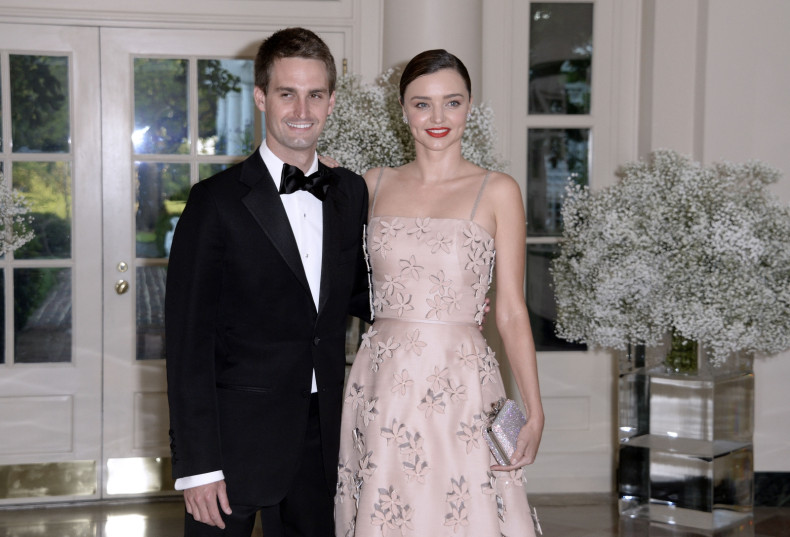 Supermodel Miranda Kerr is preparing to walk down the aisle for the second time, after getting engaged to Snapchat founder Evan Spiegel. Announcing the news on Instagram, the Victoria's Secret beauty posted an image of her stunning sparkler with the simple caption: "I said yes!!!"
A spokesperson for self-made billionaire Spiegel, who is worth an estimated $2.1billion (£1.5bn), told the publication: "They are extremely happy."
Kerr started dating Spiegel in June 2015 after they first met at a Louis Vuitton dinner in New York City in 2014. Opening up about their romance, she told The Sydney Morning Herald: "We were really good friends for a long time before we started dating."
In May this year they took their relationship to the next level by splashing the cash on a $12m mansion in LA's Brentwood neighbourhood.
Kerr had previously been wed to Orlando Bloom, with the couple having a five-year-old son, Flynn, together. They called time on their three-year marriage in October 2013. At the time they insisted that the split was amicable and that they would always consider themselves to be family.
"We love each other, we're a family," Bloom said. "We're going to be in each other's lives for the rest of our lives. There's no question for the sake of our son and everything else – we're going to support one another and love each other as parents to Flynn."
She recently stated that she and Bloom agreed to wait before introducing their son to their partners."We had to know the person for six months and feel good about them," she said. "Evan met Flynn, so, yeah, things are going well. Orlando thinks he's great. We're just a modern family now!"
The 33-year-old was previously linked Australian billionaire James Parker, a casino mogul who is Australia's richest man with a net worth of $7.7 billion.