Miriam Gonzalez Durantez: Boardroom quotas needed to bridge gender gap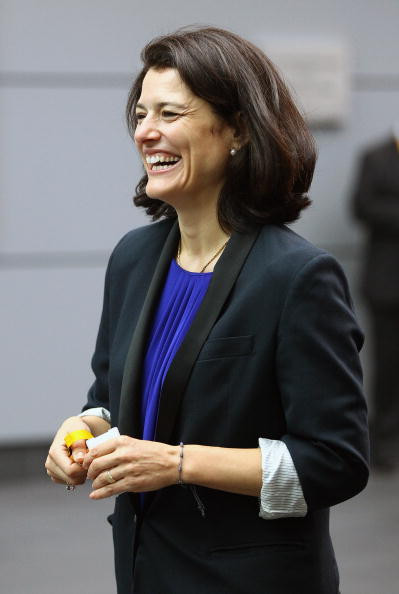 Miriam Gonzalez Durantez is a 'reluctant supporter' of temporary quotas
Getty
Miriam Gonzalez Durantez, the wife of former deputy prime minister Nick Clegg, has said that female quotas in the boardroom are needed to bridge the gender gap in the world of finance.
The disparity between men and women in the financial sector is best illustrated by the fact that there are only five female chief executives in the FTSE 100 (with the sixth, Alison Brittain, starting her role heading up hospitality company Whitbread in 2016).
And only yesterday (1 July), Labour called for an audit on Britain's biggest companies to smoke out which ones are paying women less than men.
IBTimes UK caught up with Gonzalez Durantez, a partner at law firm Dechert, and Amanda Pullinger, chief executive of industry association 100 Women in Hedge Funds, to talk about females in business.
Quotas
"I am a reluctant supporter of temporary [boardroom] quotas. Intervention, on a temporary basis, is probably the only solution to make a big change. It irritates my legal mind because obviously discrimination cannot be sorted with another discrimination, but I've come to the conclusion that unless you make an intervention, change will to be difficult," Gonzalez Durantez says.
A recent report from the government's gender equality tsar, Lord Mervyn Davies, showed the situation is improving. Women now hold 23.5% of FTSE 100 directorships, a figure that has doubled since 2011. However, in the most powerful jobs – chief executive, chief finance officer and chairmanship – women only account for 8.6% in the FTSE 100.
Even where there is female representation, it is pointless if it comes in the form of tokenism, according to Gonzalez Durantez.
She says: "Boards have a specific role: controlling what the situation is for shareholders and the community as a whole, that is why they were created. Too many boards are either not diverse or diverse nominally and not inclusive. They sit women around the table but they don't participate in discussions, those boards are not fulfilling."
Financial crisis
Pullinger even believes the gender imbalance in boardrooms contributed to the financial crisis. She says: "You have a room that looks like you, thinks like you, it's part of the reason why the financial crisis occurred. It makes for easier meetings but it's definitely not good governance."
She believes "old boys' networks" have kept the status quo in place for too long by employing narrow-minded recruitment methods.
"I keep hearing that we can't find any women and one of the things we're saying as an organisation is 'we have the women'," she says.
As well as the representative disparities, there are also large gaps in pay across all professions. The gender pay gap in Britain is 19.1% – the sixth highest in Europe – with women earning 81p for every £1 a male earns. At the current pace of change, the gap would take 70 years to bridge, according to the United Nations' International Labour Organization.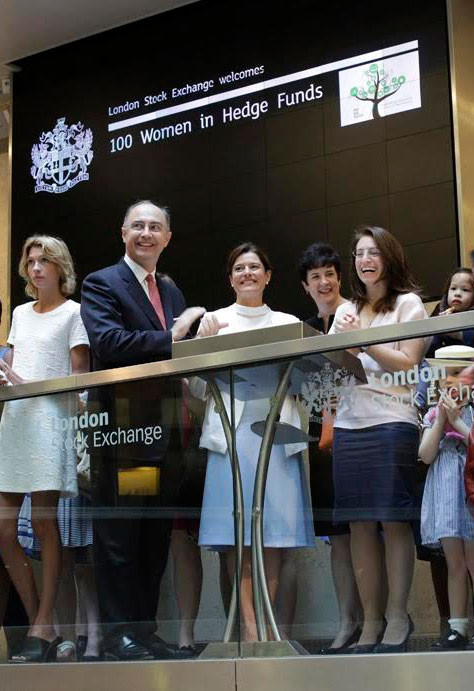 Miriam Gonzalez Durantez with Amanda Pullinger at the 100 Women in Hedge Funds' Celebrating Education, Investing in the Next Generation event at the London Stock Exchange
100 Women in Hedge Funds
Change
One of the biggest drivers of change could be the attitude of shareholders, many of who are now applying pressure on companies to ensure board recruitment is more meritocratic.
Pullinger said: "The biggest shift for this is what institutional investors are doing. There are now heads of corporate governance boards who are asking what firms are doing about board refreshment, about diversity, not just gender, in terms of experience and next generational issues.
"The data is out there: companies that have diverse boards are more profitable."
Role models
For Pullinger, the ascendancy of Margaret Thatcher to the highest post in the land was a pivotal moment.
She says: "My formative years were in the 1970s and I have to say that Margaret Thatcher was one of my role models. I happen to agree with her politics but, agree or not, in 1979 she came to be PM and what that said to me, as a lower-middle-class girl, is if she can do it, so can I. There was a woman at the top of her field and that's what inspired me."
Both women, through their advocacy work, are now attempting to illustrate to younger girls and women that the financial sector is a place that is open to them.
Gonzalez Durantez is part of the Inspiring Women Campaign, which links secondary schools with inspirational female speakers. She grew up in Spain during the transition from General Franco's dictatorship to democracy and credits the country's political shift with aiding social mobility and, critically, education.
She says: "I have engraved in my mind that with education you can do anything, so I'm dedicated to making sure girls look at the financial sector and see there is a place for them there. Lots of women think: 'I don't want to go out to be seen as a woman, this puts into question how I got here.' But this is the wrong approach, we should be helping the next generation."