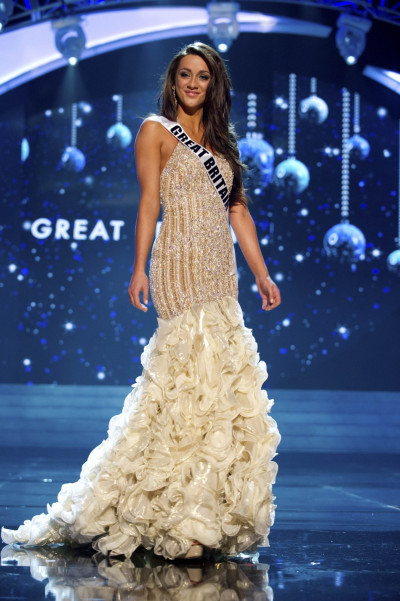 The 89 contestants for the title of Miss Universe 2012 have impressed judges in Las Vegas, USA, with their glamorous fashion sense in the Evening Gown competition.
Unfortunately for Miss Guyana, Ruqayyah Boyer, the evening was a little embarrassing. The 20-year-old model/actress tripped on the train of her evening gown and fell down, on stage. However, the young contestant was quick to recover her poise and good humour, laughing at herself after the incident.
"Okay Guys the prelims are over and yes I did fall down flat on my ........... I'm still stunned but i can't stop laughing at myself for the mere shock of the fall. But i want you to know that i did my best to represent our country and i hope irrespective of what happened tonight that i will be able to make you all proud. You guys have no idea how much i love and miss you! #West Indian love, #Guyanese Love #Rocky For life #Miss Universe Bless!" she posted on Facebook after the incident.
The showpiece final is scheduled for 19 December and will be broadcast live from Planet Hollywood. However, the preliminary competitions (such as this round) are equally important, since they reduce the long-list to a final selection of 16 candidates. The other rounds on which these young women will be scored are the Swimsuit and Interviews.
Miss Universe 2011, Leila Lopes of Angola, will crown her successor at the end of the two-hour final, which organisers expect to be watched by more than a billion people worldwide. The big show will be hosted by Andy Cohen (the host of Bravo's Watch What Happens Live) and Giuliana Rancic, a co-anchor on E! News.
The contest judges include reality-television personalities Iron Chef star Masaharu Morimoto, and Real Housewives of Beverly Hills participant Lisa Vanderpump. Also present will be photographer Nigel Barker, celebrity stylist Brad Goreski, singer CeeLo Green and San Francisco Giants MVP Pablo Sandoval. These judges will be led by pageant owner Donald Trump.