Miss World contestants celebrated world peace day on 21 September 2013, International World Peace Day.
The day, first celebrated in 1982, is intended to encourage the elimination of war and violence.
To mark the day, a peace bell made of coins donated by children from all continents except Africa is rung at the UN headquarters in New York.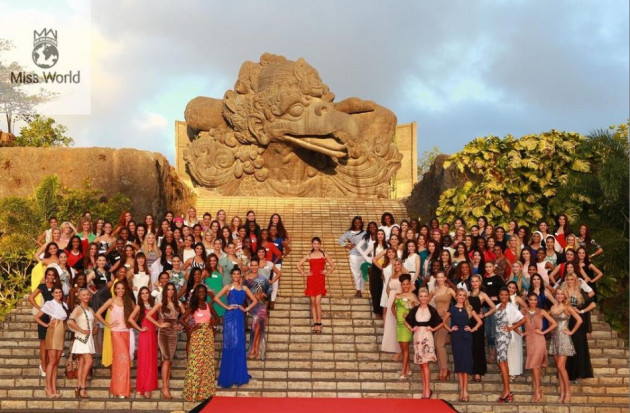 The Miss World contestants will visit Bali's World Peace Gong, the 43rd of its kind. It weighs one ton and has a diameter of 5 metres.
The original World Peace Gong was cast in Jepara, Indonesia, before being taken around the world. Following this several gongs were created for permanent display in countries including Ukraine, China, Mozambique and India.
The final of the Miss World contest will be held on 28 September in Bali.
Meanwhile, the top 10 beach fashion contestants have been revealed: France, Brazil, China, Italy, Jamaica, Ghana, Philippines, Ukraine, Moldova, Indonesia and Spain.
They were selected after they took part in a poolside demonstration of 125 ways of tying a sarong. The judges were unable to agree on a final ten, so chose 11.
The 12 finalists in the separate talent finale to be held in Bali on 22 September are the contestants from Australia, British Virgin Islands, Indonesia, Ukraine, Wales, Trinidad and Tobago, Slovakia, Cameroon, Canada, Hong Kong China, Dominica and Panama.
All the contestants are taking part in events such as Beach Fashion, Top Model, Sports and Fitness, Beauty with a Purpose, Talent Competition and the World Fashion Designer Award, before heading into the finale. The winners of each round will be announced at the final gala.