With major smartphone makers such as Samsung and LG having already launched their flagship models for the year, rival Motorola is rumoured to be planning the next-gen Moto X.
Thanks to STJS gadgets, which has received information from certain unnamed insider sources, we now have the alleged specifications for Motorola's Moto X 3<sup>rd Gen, which is said to be in the initial testing phase before the final product comes out in September this year. Motorola usually adheres to the annual release cycle for the Moto series flagship.
According to the leaked specs sheet, the new Moto X handset uses a similar 5.2in screen with QHD resolution like the Verizon-bound Droid Turbo, unveiled in October last year. It runs the latest Android Lollipop version 5.1.1, which Google has just released for Nexus 7 models and Nexus 10.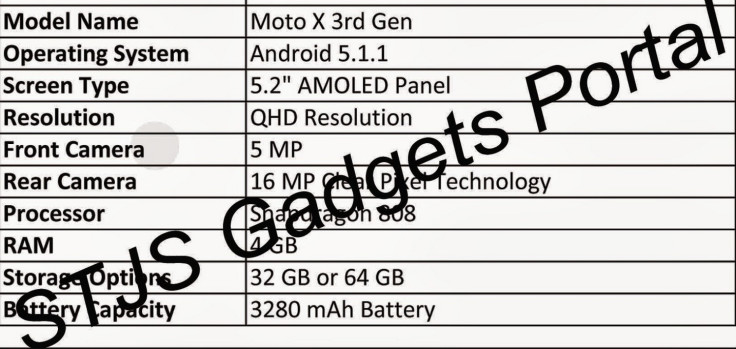 Qualcomm's Snapdragon 808 chip, coupled with a 4GB RAM would be the source of power for the smartphone that packs a 3280mAh battery. Even in terms of camera resolutions, the latest Moto X brings improvements, with a five megapixel front-camera and a 16 megapixel rear camera, as opposed to the two megapixel and 13 megapixel respectively used in the 2014 Moto X model. Further, the internal storage capacity is noted as 32GB or, 64GB.
Keep in mind these hardware features are in the initial stage and could change with the final product.