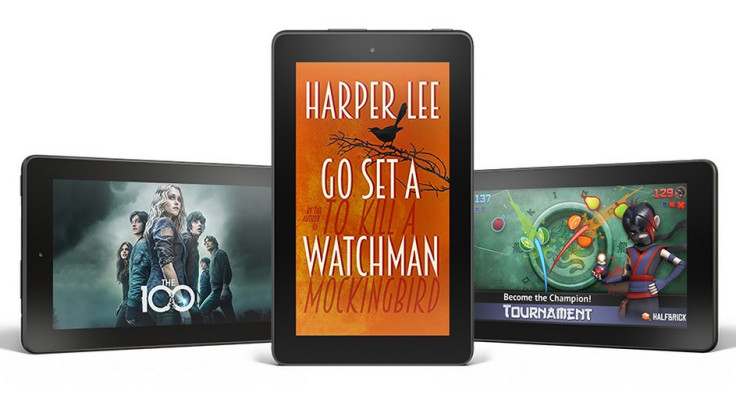 Amazon now sells a tablet for less than £50 (£49.99), as it reveals the new entry-level Fire, a 7in tablet with Wi-Fi, 8GB of storage and a quad-core processor. The tablet is said to be twice as durable as the iPad Air 2 and with twice the processing power of the Samsung Galaxy Tab 3 Lite.
Running Android, but heavily modified by Amazon to resemble its own operating system, the new Fire tablet has a resolution of 1024 x 6900, a pixel density of 171 per inch, a 1.3GHz processor and both front- and rear-facing cameras. A new app store called Amazon Underground offers "thousands" of apps and games for free, as well as in-game content, like extra lives, unlocked levels and more. Free content comes from the likes of Disney, Angry Birds maker Rovio, Hipster Whale, Zeptolab and Sega of America.
Although there is just 8GB of internal storage − half that of the smallest iPad − a microSD card slot means this can easily be increased by up to 128GB. Amazon Prime members can use the Fire tablet to access a catalogue of 38 million songs, movies, TV shows, books, apps and games. Amazon claims the £50 Fire's battery will provide enough juice for seven hours of mixed use.
The new Fire is £30 cheaper than the next model, the Fire HD 6. The front camera has a VGA resolution (0.3 megapixels), while the rear camera is 2MP and can record 720p HD video. Available only in black, the new Fire is the first tablet to run Amazon's new OS 5 Bellini operating system, which is a heavily modified version of Google's Android software.
Just like its more expensive stablemates, the cheapest Fire gets 'Mayday' support, where users can have a live video chat with a member of Amazon's technical support team if their Fire is faulty, or if they want help with learning how to use it.
Interestingly, if you buy five of the £50 Fire tablets, Amazon will give you a sixth for free. This could be a popular option for small businesses or schools looking to provide pupils with their own tablet on a small budget.
The £50 Fire can be pre-ordered online now and shipping will start on 30 September. As well as Amazon's website, the tablet will also be sold by Dixons, John Lewis, Argos and Tesco, where it will be sold alongside the supermarket's own budget tablet, the £99 Hudl 2.