Sony has confirmed the roll-out of a new firmware for Xperia Z3 and Z2 series devices such as Xperia Z3, Z3 Compact, Z3 Tablet Compact, Z2 and Z2 Tablet.
The new update is based on feature requests and feedback on a few items users have posted on the Sony forum. Like always the timing and availability of the firmware depends on carrier and region.
"We are really grateful for that and as we're keen to ensure that all our software is as good as it can possibly be, we've addressed these & improved on a few things," reads a release note posted on the SonyMobile forum.
Along with the performance, stability tweaks and improvements, the new update adds the following fixes and changes.
Ensured the lock screen / notification bar doesn't indicate "no service" when the device has coverage
Added a Sony feature; bringing back the "close-all-button" in the activity menu, so you can easily close all apps at once
Unblocked devices with server policies (such as Exchange Active Sync for e-mail), to enable the new Lollipop lock-screen notifications
Ensured the LED light is lit across all sound modes - and no longer offset by "silent"
Made the necessary fixes to enable the easy movement of content from internal memory to external microSD card (something we saw affecting a few devices)
Improved messaging functionality in Ultra stamina mode – some conversations could not be opened before in Ultra stamina mode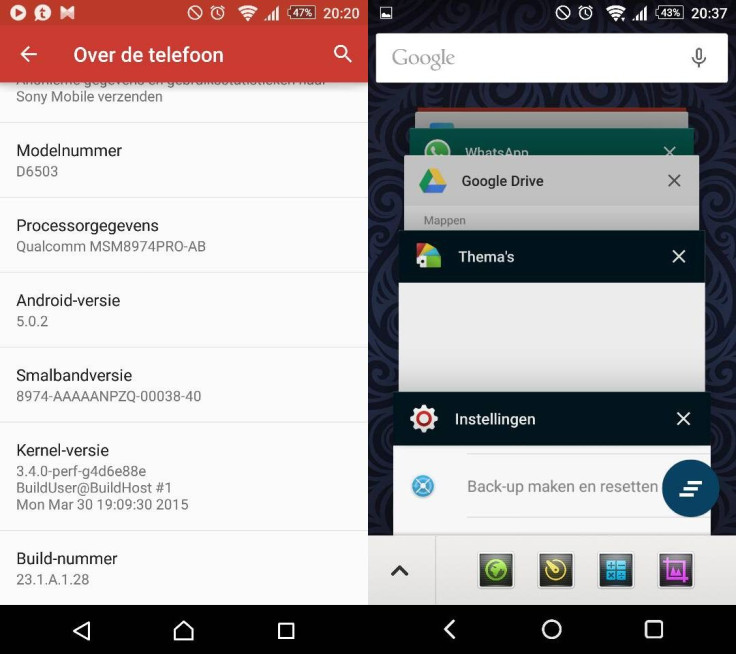 Based on Android version Android 5.0.2, the stock firmware update brings a new build, 23.1.A.1.28. To check the availability of the firmware wirelessly go to Settings>> About phone>> Software updates>> System updates.
FTF links
Those who have are yet to receive the OTA notification for update, can head over to the XDA forum for the FTF links. To make it easier for you, we have listed the FTF links available so far for the aforementioned Xperia smartphone.
Xperia Z3
Device: Xperia Z3 (D6603)
CDA: 1288-5530
Market: Baltic Generic
Operator: Customized BAL
Network: GLOBAL-LTE
Release: 23.1.A.1.28 / R4C
Download link: D6603_23.1.A.1.28_Customized_BAL.ftf or, from here
Xperia Z3 Compact
D5803_23.1.A.1.28_Customized_NCB.ftf [alternate link]
Xperia Z3 Tablet Compact..... coming soon
Xperia Z2
D6503_23.1.A.1.28_NCB.ftf or, Google Drive or from source thread
Xperia Z2 Tablet
SGP521_23.1.A.1.28_Customized NCB.ftf [mirror link or here]