Google has been toying with the idea of ditching its Nexus program for a while now, but its potential replacement, dubbed Android Silver, seems to be dead in the water for now.
And so in October 2014, we can look forward to the latest smartphone in the storied Nexus series, a range of devices which aims to show off the best of what Android has to offer.
This time around, it looks like Google is going big - REALLY BIG.
The Nexus 6 is set to go head-to-head with the iPhone 6 Plus and the Galaxy Note 4 with its large screen and powerful specs.
We have gathered together everything we know about the Nexus 6 so far, to give you a clear idea of what to expect.
---
Who is building the Nexus 6?
---
After partnering with HTC, Samsung, and most recently and successfully with LG, Google is reportedly teaming up with Motorola to make the Nexus 6.
Motorola, which has produced the hugely successful Moto G and Moto X smartphones in the last 12 months, is about to be sold by Google to Lenovo, so the Nexus could be seen as a parting gift.
---
What will it be called? Nexus 6, Nexus X, Shamu?
---
Google has not really been consistent with its naming pattern for Nexus smartphones in the past. It has gone from Nexus One, to Nexus S, to Galaxy Nexus, while the last couple of years have seen some consistency with the Nexus 4 and Nexus 5.
This could suggest that the new device, which has been codenamed Shamu internally at Motorola, will be called the Nexus 6.
However, there have been some reports that as this new device will be based in part on the look and specs of the updated Moto X, it could get the moniker Nexus X.
We're sticking with Nexus 6 personally, but with Google's history of name changes, it is hard to tell for sure.
---
Nexus 6: Screen size
---
All reports point to the Nexus 6 coming with a massive 5.92in screen, giving even more weight to the Nexus 6 name.
The Quad HD (QHD) resolution of the large screen matches its large physical size at 2560 x 1440 pixels, which will give it a pixel density of 496 pixels per inch (ppi), which is an upgrade from the Nexus 5 (445ppi).
The Nexus 6 QHD screen is the same 2560 x 1440 resolution as the LG G3, though with a 5.5in screen that phone has a pixel density of 534ppi.
---
Nexus 6: Design
---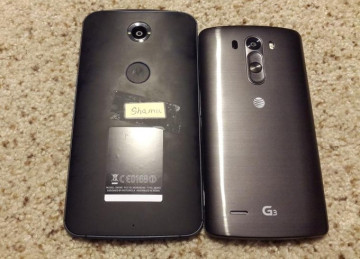 The Nexus 6 is going to be huge. According to a leaked image posted online this week by PhonesArena, the Nexus 6 will be significantly larger than LG's G3, which itself is not an insubstantial device.
This is hardly surprising given the expected screen size, but Google and Motorola will have to work a lot of magic to make the device manageable for one-handed use.
Motorola is set to take inspiration for the Nexus 6 design from its updated Moto X, which was launched last month. This is not a bad thing as the Moto X is a premium device which feels great and is solidly built.
The big stumbling block for many will be the size of this phone, which, if this leaked image is accurate, will be a monster.
Aside from the size of the Nexus 6, Motorola has positioned the power and volume buttons lower down on the phone's edges to make them more accessible, and it has also added front-facing speakers above and below the screen - similar to the BoomSound speaker introduced on the HTC One smartphone.
---
Nexus 6: Processor, RAM, and Camera
---
Google typically packs its Nexus smartphones with hardware well beyond what is available at the price point for which it sells them. This is because Google's aim is not to make profit from the hardware but to highlight just how good Android can be.
Google is likely to continue that trend with the Nexus 6 and along with the high resolution display, the large smartphone will feature a 2.6GHz quad-core Snapdragon 805 processor paired with a huge 3GB of RAM - though the phone will need all that power to run its large, high resolution screen.
In terms of the camera - which at launch was the big disappointment with the Nexus 5 - Google is set to up its game significantly with a 13 megapixel sensor along with optical image stabilisation.
The camera will also work in conjunction with a dual-flash for better low light performance and more natural colour reproduction, which will be in a ring configuration around the lens. The front-facing camera is set to feature a 2 megapixel sensor.
---
Nexus 6: Battery and Turbo Charge
---
With all that power and all those pixels, battery life is going to be a vital aspect of whether this smartphone succeeds or not.
According to reports, the Nexus 6 will have a large 3200mAh battery (the iPhone 6 Plus has a 2915mAh battery for comparison) but of even more interest are reports that Motorola will include its Turbo Charger technology in the new phone.
This tech allows users to charge the new Moto X for up to eight hours use in just 15 minutes - according to Motorola at least - which, if replicated on the Nexus 6, could be a huge selling point.
---
Nexus 6: Android 5.0/Android L
---
Google announced Android L at its Google I/O conference in June 2014, but has been pretty quiet about the software update since.
Android L (which could be called Android 5.0, Lollipop, or Lemon Meringue Pie when it is finally launched to the public) is a major redesign of Google's software, bringing a new design aesthetic as well as a host of new features.
According to Liam Spradlin from Android Police - who claims to have seen the Nexus 6 in action - the Android L interface has changed somewhat since Google revelaed it three months ago:
"Revamped icons for the dialler, Play Store, Gmail, and Play apps all generally match what we've seen before, while there are new tweaked icons for Maps and Google, and a new folder on the home screen specifically for Drive's suite of editing apps."
Spradlin adds that the messaging app seems to have been changed from Google's own Hangouts app and reverted back to something like the Messages app which was there previously.
---
Nexus 6: Release date
---
According to sources speaking to IBTimes UK, Google will launch the Nexus 6 during the final week of October with the phone going on sale through the Google Play Store almost immediately.
---
Nexus 6: Price
---
The Nexus 5 cost £299 for the 16GB model when it launched last year. We expect Google will attempt to stay below the £300 mark for the entry-level Nexus 6, but considering the hardware it is expected to use, that would be a major achievement.