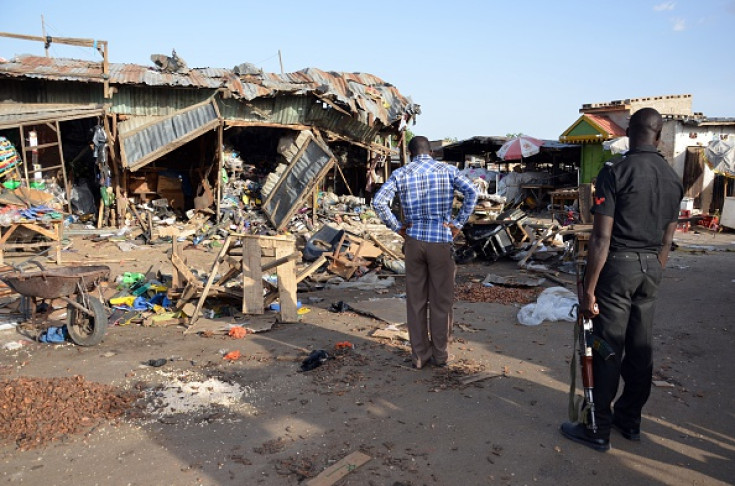 At least 13 people have been killed after two female suicide bombers blew themselves up at a crowded market and a military checkpoint in north-eastern Nigeria.
The attacks were carried out in the Malari village outside Maiduguri, capital of Borno state, the epicentre of terror group Boko Haram's insurgency.
Responsibility for the two blasts is likely to fall on the terrorists, who killed more than 100 people in several attacks at mosques in Kukawa on 2 July, a day after they attacked Monguno village, killing 40 people.
Witnesses told AP a teenage girl blew herself up at a market, which led to the deaths of 10 people. Minutes later, a woman in a taxi detonated her explosive and killed a soldier and two passengers.
Boko Haram is renowned for kidnapping women and children and forcing them to participate in attacks.
Earlier in June, a report by the BBC current affairs programme Panorama warned some 219 girls kidnapped by the insurgents from Chibok, Borno state, in April 2014, have been brainwashed to the point that they now torture Boko Haram's hostages and kill on behalf of the group.
The Nigerian government is being aided by mercenaries and troops from neighbouring countries Chad, Benin, Niger and Cameroon in its offensive against Boko Haram and has scored some successes since the military co-operation started in February.
The US announced it would send military trainers to help the Nigerian army improve its intelligence gathering and logistics.
During a visit to Chad in June, President Muhammadu Buhari renewed his commitment to fight the group, which has killed thousands of people since its insurgence started in 2009.
Nigeria up close: Check out our Flipboard magazine