Nintendo shuts down fan-made 3D browser remake of the original Legend Of Zelda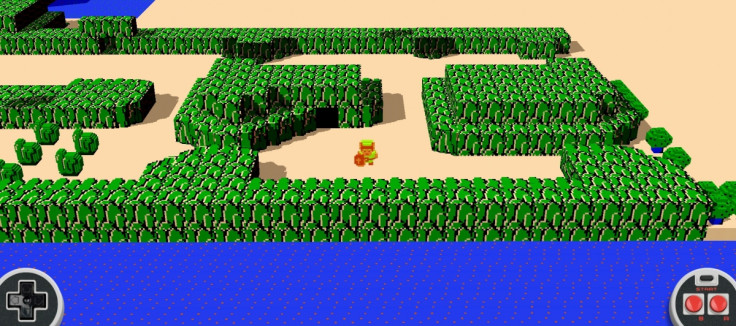 A couple of hardcore Zelda fans launched a browser-based remake of the original The Legend Of Zelda earlier this week to commemorate the 30th anniversary of the beloved series. As expected, developer Nintendo has intervened and issued a copyright notice forcing the duo to take down the nostalgic fan tribute.
"Nintendo asked us to remove Zelda 30 Tribute from the inter-web for copyright infringement. I guess it was a little too pixel perfect :-)" developers Scott Lininger and Mike Magee wrote on the project's website.
The voxel-based playable version of the 8-bit classic was launched on 4 April and could be played via PC or mobile-based web browser. Although the game was not complete and only included three fully playable dungeons, more than half a million fans got a chance to play the game before it was taken down.
The developers behind the tribute, however, seemed to take it pretty well.
"We're sad about that, but we get it," the developers wrote. "We started this project because we love Nintendo and the joy they have given us throughout the years. From the start of development, we knew this result could potentially happen. Nintendo has every right to protect their IP. No complaints from us, we had a blast working on this tribute and made some friends along the way."
They added that although their creation was "just a tribute" and "was not the greatest game in the world," they did consider it a valuable learning experience with regards to its coding. The duo plan to share the source code for the project through Github — a popular code-sharing and management service for developers — once they've "had a chance to remove Nintendo-owned assets." They noted that the engine will be playable and "the Moblins will be replaced with triangles and such."
The creators also say they both have software projects in the future and offer a few ways to stay in touch with them as well.
In March, a fan-made remake of Konami's 1998 classic Metal Gear Solid called Shadow Moses was also cancelled, presumable after a cease and desist from the developer as well. On 6 April, the creators behind the project announced The Fan Legacy: Metal Gear Solid, a virtual reality museum devoted to the series, adding that the original voice of Solid Snake, David Hayter, will also be involved in the project.
The original Legend Of Zelda was first released on 21 February 1986 in Japan and went on to become one of Nintendo's most popular series.
Nintendo recently released a HD remake of The Legend of Zelda: Twilight Princess HD for Wii U on 4 March 2016.
© Copyright IBTimes 2023. All rights reserved.