Nigeria Boko Haram: Police arrest two suspected masterminds of Abuja blasts as new attack is foiled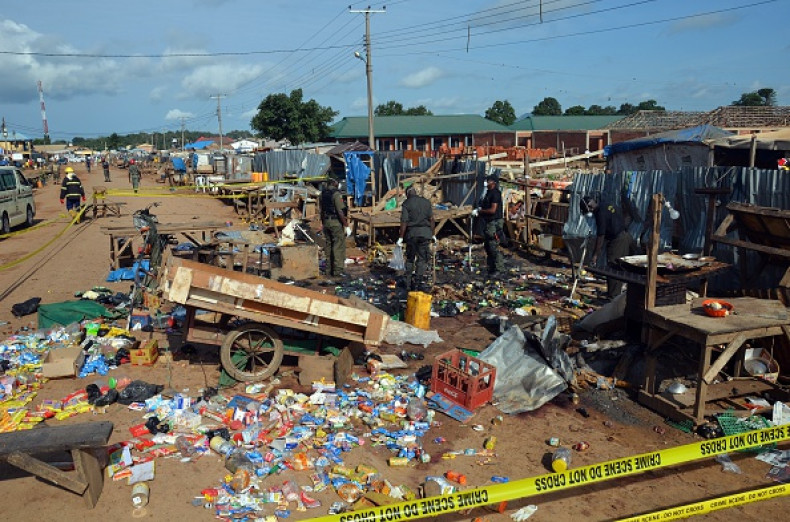 Nigerian police have arrested two men believed to be behind coordinated bomb blasts that left at least 18 people dead and 41 injured in the federal capital of Abuja on 2 October. Terror group Boko Haram claimed responsibility for the attack and said it targeted "strongholds of the apostates (non-believers)".
The Inspector General of Police (IGP) Solomon Arase confirmed the arrest of the two suspected masterminds – Abdulazeez Muhazab, 27, and Isiaka Salihu, 25, both from Kogi state – during a conference of senior police officers. He added that the arrest occurred in Abuja and that officers "foiled another attempt... to undertake further attacks in the FCT [Federal Capital Territory]", news agency AFP said.
Who are Nigeria's Boko Haram terrorists?
Boko Haram (recently renamed Iswap) fights against Western influence in Nigeria and aims to impose its version of Sharia law in the country.
The group declared an Islamic caliphate in Gwoza, along the Cameroon border, in August 2014.
Boko Haram has raided several cities in the north of the country in a bid to take control of more territory.
Three states − Adamawa, Borno and Yobe − have been under a state of emergency since May 2013, due to Boko Haram's attacks.
Arase said police found 12 home-made explosive devices (HEDs) and 28 pieces of electronic detonators hidden in several soft drink cans. The Abuja attacks came weeks after Nigerian intelligence services warned that the military had uncovered a plot by Boko Haram to attack the city.
The news came days after the country's intelligence warned dozens of people linked to the Islamist outfit had been arrested in Lagos, Nigeria's commercial hub, suggesting the insurgence could spread beyond the country's north.
Nigeria is leading a new task force against Boko Haram – consisting of 8,700 troops from Nigeria, Niger, Chad, Cameroon and Benin – which is believed to have scored some successes, such as the recapture of a key town in Borno.
The Nigerian government alleged the terrorists are surrendering, while the group said in an audio message that claims made by the government and army are false. The person heard speaking in the audio is believed to be the group's leader, Abubakar Shekau, who is rumoured to have been replaced due to his repeated absence from the group's videos.
In an interview with IBTimes UK, David Otto, CEO of UK-based global security provider TGS Intelligence Consultants, warned that the Nigeria-led joint military operation might push Boko Haram members into other areas in Nigeria.
Nigeria up close: Check out our Flipboard magazine