The US police have arrested about 40 people protesting against the Dakota Access oil pipeline on Friday (11 November). The development comes after the US Army Corps of Engineers said it would soon decide over the controversial project near the sacred tribal lands.
According to Reuters report, the US federal agency's spokeswoman Amy Gaskill said that it would issue a decision in near future clarifying its plans regarding the project, though it would perhaps not be a final decision. Gaskill's statement was not clear enough if the organisation's decision would help in resolving the tension and halt the pipeline's work as planned under Lake Oahe, where construction was ceased in September.
According to the report, in North Dakota police again confronted around 100 demonstrators involved in barricading a highway bordering to a construction easement for the line.
Vandalised construction equipments along with spray-painted machinery, smashed window were also found, the Morton County Sheriff's Department said.
Sheriff's spokesman Rob Keller reported that around 37 arrests were made, most of them at a second illegal roadblock nearby.
The $3.7bn (£2.94bn) Dakota access pipeline has drawn firm opposition from Native American and environmental activists since the summer. The line is designed to transport crude oil from North Dakota into Illinois, which will also run through the states of South Dakota and Iowa. The 1,170-mile pipeline crosses 50 counties and three major rivers.
However, the Standing Rock Sioux Tribe along with a number of other tribes have been protesting against the construction as they fear the construction will ruin sacred sites and contaminate drinking water for them.
First they started demonstrating silently, but later it turned violent when oil Pipeline Company's bulldozers began to dig up land and activists were attacked by security dogs.
"The tribe continues to ask water protectors to remain peaceful and prayerful," Standing Rock Sioux spokeswoman Chelsea Hawkins said on Friday.
Earlier, President Barack Obama requested a voluntary halt to construction within 20 miles (32 km) of the lake on each side. But Energy Transfer Partners (ETP), which owns the line, continued the work.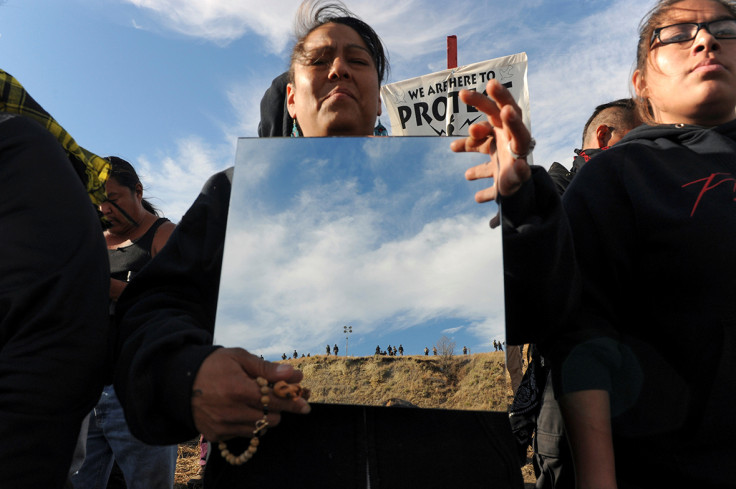 "Construction is actually complete in North Dakota, except for the bore under the lake, so there is nothing for them to stop," a spokesperson for ETP said.