Oculus founder Palmer Luckey working on defence startup to help Trump build virtual border wall
Luckey has reportedly discussed using sensor technology on borders with Trump's chief strategist Steve Bannon.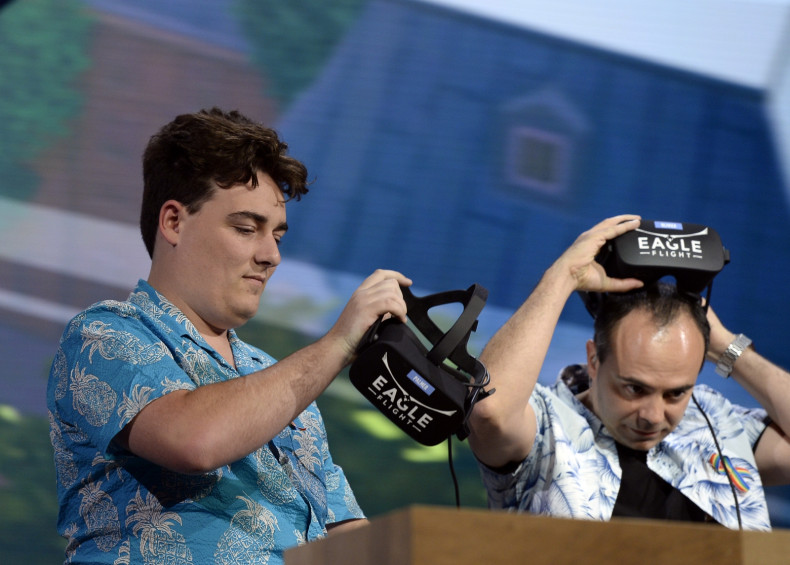 Palmer Luckey, the founder of Oculus VR that was famously acquired by Facebook in 2014, is now reportedly working on a new defence-related startup, just months after leaving the social media giant. The 24-year-old creator of the Rift is developing surveillance technology that could be deployed on national borders and around military bases, the New York Times reported on Sunday (4 June).
"We are spending more than ever on defense technology, yet the pace of innovation has been slowing for decades," Palmer said in a statement to the Times. "We need a new kind of defense company, one that will save taxpayer dollars while creating superior technology to keep our troops and citizens safer."
The startup plans to use infrared sensors, cameras and LiDAR (Light Detection and Ranging) technology — a system found in self-driving cars that allows it to "see" what is around them and navigate — to monitor borders for any illegal crossings, NYT reports.
The technology can potentially be used for various kinds of perimeter security to detect moving targets such as drones with software that will be able to differentiate between different objects such as humans and birds or coyotes.
Citing multiple sources familiar with Luckey's plans, the publication reports that Palmer believes the technology can be mounted on telephone poles and could prove to be more cost effective than President Donald Trump's proposed "impenetrable" wall along the US-Mexico border.
Luckey has already reportedly discussed using sensor technology on the Mexican border with Trump's chief strategist Steve Bannon and met with US Secretary of the Interior Ryan Zinke in April.
"The secretary had a very brief meeting where he listened to Mr. Luckey about using technology on the border and referred him to the Department of Homeland Security," Zinke's spokeswoman Heather Swift said. "There was no action after the meeting."
Currently financed by Luckey himself, the startup already has a few employees including former Oculus employee Christopher Dycus. Luckey could also secure funding from Founders Fund, the investment firm of Paypal founder Peter Thiel — Trump's most prominent supporter in Silicon Valley.
Revelations of Luckey's new startup come after he left Facebook in March this year following a fierce lawsuit brought by ZeniMax Media alleging Oculus stole its technology to build the Rift headset.
Oculus was ordered to pay a combined $200m (£155.4m) while Luckey was found guilty of breaking a non-disclosure agreement with ZeniMax and ordered to pay $50m for false designation.
In September, Luckey's political views came into the spotlight after it was revealed that he secretly donated $10,000 to Nimble America, a pro-Trump non-profit that churned out racist, far-right memes to denigrate Hillary Clinton.
After fierce backlash and several VR developers dropping support for Oculus, Luckey later apologised for his actions that might negatively impact the perception of Oculus. Luckey said he was a libertarian and said he decided to donate because he felt they had "fresh ideas on how to communicate with young voters through the use of several billboards".
In response to a Reddit post on Steve Wozniak's comments about him, Luckey wrote in May: "Some people want founders to keep their politics private and away from their business, others think they should do everything out in the open in a vocal way."
You can't make everyone happy, and there are good arguments on both sides, but it is clear that people who happen to align with opinions held by the majority of the media come out ahead either way."