One Direction's Harry Styles: I'm Still Single
Harry Styles Still Single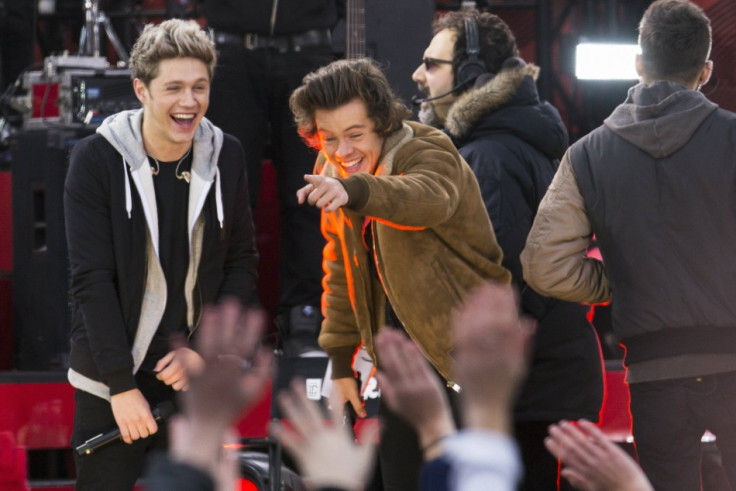 Harry Styles has revealed on American TV that he is still single.
The British heart-throb was appearing on US breakfast show Good Morning America with his One Direction band mates, where they are currently promoting their new album Midnight Memories.
When asked by the show's host Robin Roberts, who in the band was "still available," Styles raised his hand, receiving a thundering cheer from the crowd who had braved freezing temperatures to see the boys perform in New York's Central Park.
Credited as a co-writer on the new album, the 19-year-old seems to have taken a leaf out of former girlfriend Taylor Swift's book and is drawing on his own love life as a source of inspiration for his song writing.
"When you're writing songs, it's impossible to not draw on personal experiences, whether it be, you know, traveling or girls or anything," he told E! "You're always gonna draw inspiration for things that you're feeling, things that you've felt. It's kind of impossible not to unless there's an exact scenario that you're trying to write a song for."
Swift's song I Knew You Were Trouble is widely believed to be the inspired by the One Direction star.
As well as being one-fifth of the world's biggest boy band, Styles is known for his complicated love life having been romantically linked to a number of women, including Xtra Factor host Caroline Flack and model Cara Delevingne.
He was most recently caught by paparazzi on a date with Kim Kardashian's step-sister, 18-year-old Kendall Jenner.
The 1D stars were in Central Park performing tracks from their new album and revealed the dates for their upcoming Where We Are tour.
Liam Payne said he was bowled over by the number of fans who braved the cold weather to see the band. 'This is so nice," he said: "We can't believe how many people have showed up in the cold for us."
Commenting on the US leg of their world tour Niall Horan said: 'Next year as you know we're doing our tour, the Where We Are tour. And we're bringing it to North America and the tickets are on sale on 7th December this year.
Earlier the band attended the 41st American Music Awards in Los Angeles where they accepted the award for the favorite pop/rock album for Take Me Home.
Released on Monday (26 November) One Direction's new album Midnight Memories is already number 1 on iTunes in almost 200 countries.
© Copyright IBTimes 2023. All rights reserved.