Outlander will return with its spring premiere episode next week, 4 April, at 9pm on Starz.
In the mid-season finale, fans saw Claire in the clutches of the Black Jack, while Jamie was preparing to rescue his new wife.
Now, Starz has released the synopsis for episodes 9 to 13 (via Spoiler TV), and it looks like there's trouble ahead for Jamie Fraser (Sam Heughan) and Claire (Caitriona Balfe).
Check out the synopsis of episodes 9-13 below below:
Episode 9- The Reckoning
Jamie and the Highlanders rescue Claire from Black Jack Randall.
Episode 10 - By the Pricking of My Thumbs
Jamie hopes the Duke of Sandringham can help remove the price on his head.
Episode 11 - The Devil's Mark
Claire and Geillis stand trial for witchcraft; Claire learns a secret about Geillis' past.
Episode 12 - Lallybroch
Old wounds are reopened when Jamie returns to his family home.
Episode 13 - The Watch
A Redcoat deserter from Jamie's past returns; Jenny goes into labor; Jamie and Ian join the Watch.
Below are a few spoilers from the upcoming episodes. Proceed at your own risk.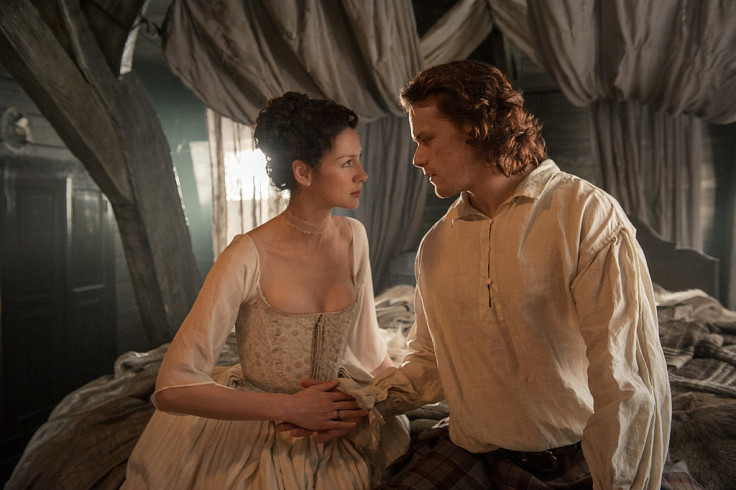 Show will follow the books
Outlander is adapted from the best-selling book by the same name written by Diana Gabaldon.
Interviews of Gabaldon and the show's executive producer Ron Moore suggests that season 1 will follow the first book completely, meaning Claire will most likely choose Jamie over Frank.
Fraser boy will be less idealistic
Sam Heughan who plays Jamie Fraser, says that his character may seem a lot less idealistic in the second half of the series.
"He's discovering his place, he's got new responsibilities," Heughan said. "We'll start to see the stubborn side and his pride. We'll see the chinks in his armor."
Jamie's point of view will be seen in episode 9
According to executive producer Moore, the spring premiere episode will be told from Jamie's point of view, rather than Claire's usual perspective.
"We're restarting the audience, so we wanted to have a lead-in for the viewers that would shift the point of view," Moore said. "This was a moment to pivot and include him in the perspective of the audience."
One thing viewers won't see in the next eight episodes is the perspective of Frank, Claire's present-day husband, but his character will return in season 2.
"The story does revisit Frank in the 21st century in Book Two, so in the second season you will [see him]," Moore said.
Difficult scenes ahead
Moore told TVLine that shooting the culmination of season 1 involved some "grueling, difficult scenes."
Jamie finds himself the prisoner of Black Jack Randall, who tortures and humiliates him in Wentworth Prison. "There were a lot of hours spent in that cell. There's a lot of rough stuff happening," Moore stated.
"Just from the dailies, you can tell that it's pretty amazing. It's pretty intense stuff, and I think it's going to really surprise people." When asked about the herd of livestock that makes an appearance at a key point in the narrative... Moore said: "We did wrangle some cows."