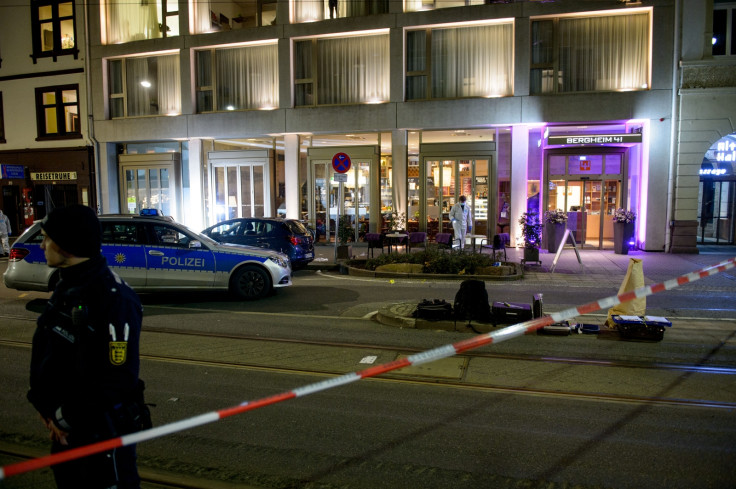 A 73-year-old man has died and two others injured after an attacker ploughed his car into pedestrians in a busy square in the German city of Heidelberg. A 35-year-old suspect, who was believed to be carrying a knife, was shot by police outside a bakery after a stand-off with officers.
The incident, which took place on Saturday 25 February, left the alleged attacker needing an operation in a nearby hospital.
Police say the suspect is a German national who they believe acted alone and have subsequently ruled out terrorism.
The two injured victims, a 32-year-old Austrian man and a 29-year-old Bosnian woman, remain in hospital after the incident in the south-west of the country.
Authorities say that an attacker drove a car into a crowd in a pedestrian area of the city's Bismarckplatz area, at around 4pm local time with the alleged attacker fleeing on foot after the crash.
He was then tracked by police to near an area close to an old swimming pool where he was shot and seriously injured.
Heidelberg 24 reported that police opened fire after he allegedly ignored orders to drop a knife.
"There are no indications of a terrorist background," police spokesman David Faulhaber said according to Deutsche Welle.
Unverified footage posted online purportedly shows officers shouting at the suspect before one shot was fired.
And one image circulated online purportedly shows a man carrying a knife before he was shot.
Local media reported the assailant was mentally disturbed, although this has not been confirmed by officials.
The Police Mannheim account took to Twitter to nullify rumours surrounding the alleged attacker's racial background, telling followers the man was: "German without a migration background!".
Mannheim police said in a statement: "Shortly before 4pm, a suspect drove into a group of people in Bismarckplatz in Heidelberg in front of a local bakery branch.
"This injured three people, one of them seriously. Afterwards, the suspect climbed out of the vehicle and moved away on foot, armed with a knife, towards Bergheimer Strasse.
"In front of the local indoor swimming pool, he was identified by a police patrol on the advice of passersby. During the arrest, the police officers used firearms."
Later in the evening, police added: "The person who was initially seriously injured died at 6pm in a Heidelberg clinic. He was a 73-year-old German national."
Germany has been on high alert since a 24-year old man with ties to Isis drove a stolen truck into a crowded Christmas Market in downtown Berlin in December last year.