Periscope has received a major new update that brings an overhauled Google Maps and 3D Touch support for the iPhone 6s and iPhone 6s Plus. The updated app is available for download on Android and iOS devices.
Twitter-owned Periscope got the Global Map as a solution to offer live streaming of broadcasts from worldwide regions in the past. The feature was initially limited to a total of 250 broadcasts, but it has now been updated to let you watch thousands of broadcasts live. In addition to live broadcasts, there are replays from the last 24 hours.
In an intuitive manner, the app offers live broadcasts in red dots, while replays are available in blue dots. You can simply zoom in to a particular place on the map to watch either of the two.
Apart from the overhauled Global Map feature, the updated Periscope has 3D Touch shortcuts -- Broadcast, Broadcast Mutuals, Teleport and Search People. While Broadcast allows you to quickly start a public broadcast, Broadcast Mutuals provides you with an easy way to start a private broadcast that gives access only to your mutual followers. Teleport, on the other hand, allows you to reach a random place to watch a live broadcast directly from there while Search People helps you search your favourite accounts right from the Periscope icon.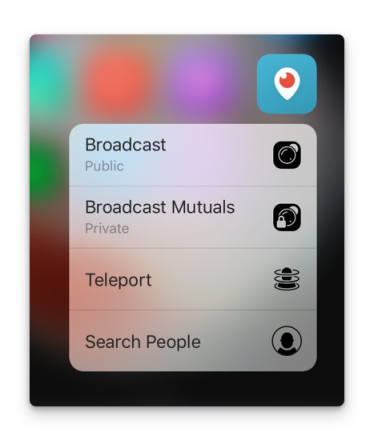 All the four 3D Touch shortcuts are so far limited to the new iPhone models but Android users finally have the much-awaited pinch-to-zoom functionality to enable zoom in and out while broadcasting. This functionality was previously exclusive on iOS devices.
The Periscope team has additionally made it easy to skip ahead in replays to a particular point. You just need to press down on the screen while watching a replay on Periscope and then drag left or right to skip the content. Likewise, there is also an option to change the seek speed by dragging up or down and a preview will be shown on the screen when your finger is pressed down on the screen.
The new changes are certainly designed to take on Meerkat, one of the closest Periscope competitors in the world of livestreaming apps. This would also help Twitter get some smartphone users to start live streaming their content through Periscope. The company recently introduced Periscope on Apple TV to broaden its user base in the developed markets.