A Nike-style poster mocking the suicide of JP Morgan banker Li Junjie has appeared on a bus shelter near London's Canary Wharf banking district.
The anonymous anti-banker poster shows the Hong Kong trader moments before he leapt to his death with the words 'Just Do It' - a slogan of sports manufacturer Nike - underneath the image.
Junjie leapt to his death from the roof of JP Morgan's Hong Kong office roof in February after police officers had failed to convince the 33-year-old to climb down.
Currency trader Junjie was reportedly a junior-level trader at the investment bank who played a role in various projects.
It is not known who assigned to poster to the board or when it appeared but it positioning near to Canary Wharf appears aimed at attracting the attention of finance professionals who work at the district.
It is thought at least eight finance professionals have taken their lives so far this year. They are:
Autumn Radtke, 28, the CEO Bitcoin exchange First Meta, was found dead on 28 February outside her Singapore apartment. She had jumped from a 25-story building, authorities said.
Li Junjie, 33, a JP Morgan employee, leaped to his death from the roof of the company's 30-story Hong Kong office tower, authorities said. Photos showed Junjie on the building's roof moments before he jumped.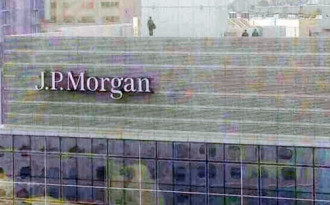 Gabriel Magee, 39, an IT vice president at JP Morgan fell to his death from the roof of the bank's 33-storey office in Canary Wharf on 28 January.
Mike Dueker, 50, a chief economist at Russell Investments, was found dead at the side of a road in Washington State on 31 January.
William Broeksmit, 58, was found hanged at a house in South Kensington, London on 26 January. He was a former senior risk manager at Deutsche Bank.
Richard Talley, the 57-year-old founder of American Title Services in Centennial, Colorado, was found dead earlier this month after apparently shooting himself with a nail gun.
Edmund Reilly, 47, a New York trader at Midtown's Vertical Group, commited suicide by jumping in front of commuter train on 11 March.
'Lydia', who leapt to her death from the from a 14-storey window at French bank Bred-Banque-Populaire's Paris office on 22 April, did so after clashing with bosses.